Disney World Set To Reduce Hours After Bob Chapek Admits People Are Cancelling Trips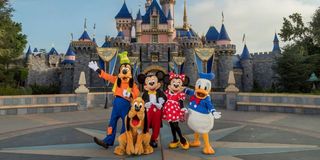 In March, the COVID-19 pandemic caused historic closures of attractions all over the world -- including Disney theme parks. In July, the Walt Disney Company began the process of reopening its parks in the United States. Now, after Disney CEO Bob Chapek announced that some guests are choosing to cancel their trips, the parks will begin operating with reduced hours.
Disney has not provided a reason for choosing to scale back its hours of operation, but each park will be open for approximately one to two hours less than they have been since the parks reopened. Beginning on September 8, the new reduced hours (via WDW News Today) for Disney's parks in Florida will be:
These new timeframes still give guests ample opportunity to see their favorite attractions if they choose to visit one of the parks. For the most part, the opening hours aren't changing -- visitors will just have to plan to leave a bit earlier than they would have otherwise. So if you're hoping to hop on Space Mountain or Pirates of the Caribbean more than once, you should still have the time to do so.
This is the latest change in policy that Disney has implemented since the COVID-19 pandemic forced the company to institute historic closures for its parks around the world. The move was controversial and resulted in at least one petition requesting that Disney hold off on reopening Disneyland to avoid putting guests at risk of contracting the virus.
The company, however, kept moving forward, announcing a wealth of social distancing measures that were implemented throughout the parks. The company also made the decision to change how it handles issuing tickets for the foreseeable future and overhaul its reservation system.
The various changes to how Disney parks do business was intended to help manage the flow of customers and insure that they would be able to keep everything running at a reduced capacity. Despite the safeguards implemented around the world, Disney had to shut Hong Kong Disneyland down less than a month after it opened its gates due to a surge in infections in China.
For the moment, it appears that the Walt Disney Company has no plans to fully shutter Disney World and its counterparts. The company has also had to alter its release schedule and strategy for a number of high profile films like Mulan, with changes stretching into 2021.
Your Daily Blend of Entertainment News
Your Daily Blend of Entertainment News
Thank you for signing up to CinemaBlend. You will receive a verification email shortly.
There was a problem. Please refresh the page and try again.