Lexi Underwood Addresses Colorism In The Industry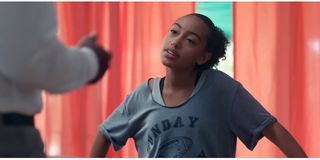 When it comes to diversity in casting, how important is it to specify the race or ethnicity of the character in the audition process? It seems like this should only matter when the ethnicity, race or culture is a defining part of the character, but what about when the casting director is searching for diversity within a single culture, as well? Lexi Underwood, star of Hulu's Little Fires Everywhere and the feature film If Not Now, When? wants others to be aware of the colorism that exists within Black culture in the entertainment industry.
There's been some debate over color-blind casting, because some stories like One Night In Miami are set in a specific time and place where race is a strong component, while others (say a good romantic comedy) can be played by any race and the story and characters will remain unchanged. But as Hollywood works to diversify, Lexi Underwood thinks an important group is being overlooked. She told CinemaBlend:
She makes a great point, because the media tells a lot of people what beauty is and there is so much representation to be spread across a single culture. Kerry Washington starring in Scandal was a dream come true for me as someone who looks like her, especially when her hair was natural. But for the dark-skinned women or those who like wigs and weaves, it was a few years to wait before Viola Davis joined Washington on ABC in How To Get Away With Murder. There are so many different kinds of beauty, and it's important for all of them to be represented, which is part of what Lexi Underwood's new film does.
Co-directed by Meagan Good and Tamara Bass, If Not Now, When? is a celebration of Black women of all shapes, sizes, and tones. The film is not about Black culture. It's a story about love, loss and friendship that happens to have all Black leads. Lexi Underwood raved about the experience of working on this film, and expanded upon what she's noticed about colorism with the following:
And that's what it really comes down to: we're not all the same. There will always be learning and growing to do - about any topic - and it's beautiful to see Lexi Underwood using her platform to lift up others. You can see Underwood in If Not Now, When? available to rent on Amazon (opens in new tab) and other retailers and in Little Fires Everywhere streaming on Hulu (opens in new tab).
Your Daily Blend of Entertainment News
Obsessed with Hamilton and most things Disney. Gets too attached to TV show characters. Loves a good thriller, but will only tolerate so much blood.
Your Daily Blend of Entertainment News
Thank you for signing up to CinemaBlend. You will receive a verification email shortly.
There was a problem. Please refresh the page and try again.