Liam Neeson Wants Another Shot At Playing Clash Of The Titans' Zeus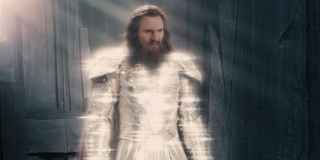 Liam Neeson has had an incredible, storied career that has seen him playing an impressive number of standout characters. He's played historical figures, franchise icons, and heroes of a wide variety. That in mind, you might think that he'd have to ponder a bit when asked about a particular role from his career that he'd like reprise one day– but that's not actually true. As captured in the video above, I asked him that very question last week during the virtual press day for his new movie, The Marksman, and he came up with an answer very quick… and one could argue that it's an unexpected choice.
If Liam Neeson had his druthers and could continue the story of one of his characters, his pick above all others is Zeus, the Greek god that he portrayed in both Louis Leterrier's Clash Of The Titans and Jonathan Liebesman's Wrath of The Titans. Evidently he's very much drawn to playing a literal god, posing with an eagle on his throne – and he even got a kind of sign from the universe that a third movie should happen, as just before our interview began he got word of a massive bald eagle was on his property feasting on a deer carcass.
It's an interesting choice for Liam Neeson to make, if not especially because he has had a long career as a leading man, and Zeus is a supporting character in both Clash Of The Titans and Wrath Of The Titans (the protagonist role belonging to Sam Worthington's Perseus). It doesn't seem that the size of a role matters that much to the actor, but instead the role itself – and apparently he very much enjoyed that experience. It probably doesn't hurt that he also got to wear some spiffy, shiny armor, and say what is the most iconic line of the duology: "Release The Kraken!"
So is it actually possible that Liam Neeson could get another shot at playing Zeus? Well, while no project is ever really truly dead in Hollywood, it's probably fair to say that the most likely path for that to happen would be a spin-off instead of a direct sequel. While Clash Of The Titans was a massive worldwide box office hit when it was first released in early 2010 (given a nice bump from 3D ticket sales post-Avatar), the follow-up made nearly $200 million less when it came out almost exactly two years later. That seemed to shut the door on the whole enterprise, but if Neeson's passion for the role is real enough, one might wonder if the folks at Warner Bros. might consider developing some ideas.
In the meantime, Liam Neeson is plenty busy – and that includes making movies like his latest release. The Marksman stars the Oscar-nominated star as a rancher living on the border to Mexico who becomes embroiled in a deadly set of circumstances when a mother and son illegally cross on to his property while being pursued by murderous soldiers of a drug cartel. Co-starring Katheryn Winnick, Teresa Ruiz, Jacob Perez, and Juan Pablo Raba, the film is now playing in theaters.
Assistant Managing Editor
NJ native who calls LA home and lives in a Dreamatorium. A decade-plus CinemaBlend veteran who is endlessly enthusiastic about the career he's dreamt of since seventh grade.
Your Daily Blend of Entertainment News
Thank you for signing up to CinemaBlend. You will receive a verification email shortly.
There was a problem. Please refresh the page and try again.