What The Coen Brothers Think Of Fargo, The TV Show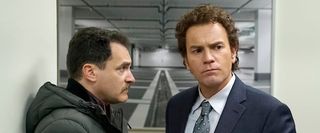 FX's Fargo has earned plenty of acclaim during its first two seasons on the air. Fargo's second season, in fact, earned Golden Globes nods in the Best Limited Series category, not to mention nods at Patrick Wilson and Kirsten Dunst's performances. But that doesn't mean everyone is interested in the FX drama. In fact, the Coen Brothers, who directed the film version of Fargo the TV series is based on, recently indicated that they aren't remotely excited about how the TV series pans out. Here's what Joel Coen had to say:
Joel and Ethan Coen are pretty busy guys in the film world, and just put out their new movie Hail Caesar! in recent weeks. Although they do enjoy executive producing credits on FX's Fargo, it's clear that they aren't really involved with the TV series. However, it's also stated that the two men feel the show is really nothing like the movie they conceived and directed way back in 1996.
Part of this seems to have to do with the fact the Coen Brothers' movies are a certain length and the Fargo TV series is a certain length and there's not much common ground between the two types of narratives. In fact, Joel also told the Radio Times they are interested in making films, not spending 10 hours with a set of characters at any given time.
That disinterest would probably be a little hurtful if spoken to the creative team that works extremely hard to create Fargo, but honestly, at least the Coen Brothers aren't lambasting the fact that Fargo has become a TV series, as some creators do. It's not uncommon for creators to be involved to varying degrees when a film becomes a TV franchise. If Joel and Ethan Coen are content to work on the big screen and not on the TV show that's probably easier on creator Noah Hawley anyway.
Still, if they did watch the drama, they'd probably be hard-pressed to find much to complain about. The show is about as close to a cinematic experience as TV gets each week, with Noah Hawley bringing crisp dialogue and costumes, fun split screens and more to his narrative arcs. The show is sometimes a love letter to the movie that spawned it, but it's also telling a much lengthier and in-depth story and it's very much its own thing. Especially during Season 2, when the storyline got a whole lot more absurd than in the original film.
Fargo has already been renewed for a third season on FX. However, the drama generally takes its time getting new episodes together, so we currently have only a vague idea regarding when the show will be back for round 3. In the meantime, we do know a bit about Season 3. You can find out more here.
Amazing Race & Top Chef superfan with a pinch of Disney fairy dust thrown in. Theme park junkie. If you've created a rom-com I've probably watched it.
Your Daily Blend of Entertainment News
Thank you for signing up to CinemaBlend. You will receive a verification email shortly.
There was a problem. Please refresh the page and try again.