Quentin Tarantino Totally Nails Why Joker's Big Robert De Niro Scene Is So Riveting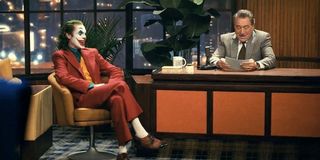 There's nothing better than receiving a compliment, but when that compliment comes from Oscar-winning director Quentin Tarantino, you know you've done something right. The Hollywood icon recently shared some praise for Todd Phillips' 2019 movie Joker, and totally nailed why that ending scene with Robert De Niro works so well.
Quentin Tarantino recently explained exactly why the talk show scene towards the end of Joker was a remarkable example of audience manipulation with the following:
In the interview on Empire's Film Podcast, Quentin Tarantino went on to praise Todd Phillips' direction of Joker and the film's ability to subvert expectations of the audience. In his words:
That's some seriously high praise from a director with a career as impressive as Quentin Tarantino's. The Once Upon a Time in Hollywood director suggests that Joker's ability to make audiences think like Arthur Fleck is exactly what makes the talk show scene so captivating. By the end, viewers are thinking like the Joker himself, whether they want to admit it or not.
There were probably quite a few audience members out there who had the same experience as Quentin Tarantino considering Joker is now the highest-grossing R-rated film of all time. Todd Phillips' critically acclaimed movie went on to earn a whopping 11 Oscar nominations, taking home two, including Best Actor for Joaquin Phoenix.
It's nice to see the praise being shared between filmmakers, as both Once Upon a Time in Hollywood and Joker went head to head at last year's Academy Awards. While neither won Best Picture (Parasite was the victor in that category), both of their projects took home Oscar's of their own, including a Best Supporting Actor win for Brad Pitt on Once Upon a Time in Hollywood.
While it may be a while until we see either of these directors back at the Academy Awards, Todd Phillips and Joaquin Phoenix are reportedly in talks for a potential Joker sequel. Hopefully Tarantino will have similar compliments for the Arthur Fleck follow-up, but only time will tell. As for this year's upcoming releases, be sure to check out CinemaBlend's 2021 Release Schedule for the latest on everything heading to the big (and small) screen near you.
Your Daily Blend of Entertainment News
Into tracksuits by Paulie Walnuts, the Criterion Channel and Robert Eggers.