Joker Director Todd Phillips Celebrated That $1 Billion Box Office In A Unique Way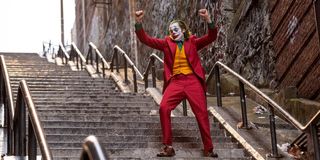 These days, Joker's cast and crew have a lot to celebrate. The controversial film has steamrolled more than one box office record. And as of this weekend, it has reached another rare feat: the $1 billion threshold. Joker's director Todd Phillips has already acknowledged the achievement -- and he found a unique way to thank the people who played a pivotal role in the movie's success.
It's not uncommon to see praise from film critics superimposed over scenes and images from a movie in commercials. It sends a strong message: this a movie is worth seeing. Todd Phillips took that theme and turned it on its head when he posted a clip to his Instagram account on November 15. At first glance, it appears to be a typical ad hyping up Joker. As clips from the film flash by, quotes like "Beautifully brutal," "Magnificent," and "Not a stupid superhero film" fill up the screen. But a closer look reveals that the comments aren't attributed to critics, but to fans via their Twitter handles.
The clip ends by announcing that the film has made $1 billion at the box office, and then displaying a final message: "Thank you fans." Todd Phillips expanded on his gratitude in the accompanying caption. He wrote, "Wow. What a ride this has been!! Thank you to the fans!" Fans commenting on the post shared his exuberant attitude. They thanked him right back, congratulated him, and some started asking for a sequel.
This isn't the first time the director has paid homage to the people he considers vital to Joker's success. After Joker became the most successful R-rated movie of all time, he shared a heartfelt message with the film's fanbase, thanking them for supporting it amid the controversy it's faced.
And Todd Phillips' fan-focused celebration shouldn't be a surprise if you've watched the drama surrounding Joker unfold. After a strong premiere at the Venice Film Festival, it became embroiled in controversy after concerns arose regarding its violent content. The overall reception to Joker has been mixed, and in the weeks since its release, it's become the topic of myriad "love it or hate it" conversations. Todd Phillips has staunchly defended Joker against its detractors, and refused to entertain any criticism.
It's clear that his latest post is as much about the people he doesn't feel are responsible for the film's ongoing success. By using fans' comments in place of critics, he's offering a not-so-subtle dig at naysayers by cutting them completely out of the conversation. It remains to be seen how high Joker's fans will propel the film. But it's clear that Todd Phillips will be there to virtually high five them the next time Joker hits a major milestone.
Your Daily Blend of Entertainment News
Thank you for signing up to CinemaBlend. You will receive a verification email shortly.
There was a problem. Please refresh the page and try again.