Sonic The Hedgehog Star Ben Schwartz Is Still Campaigning For A DC Hero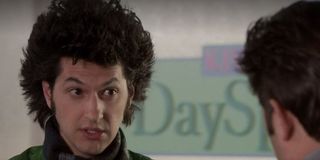 It's not easy to transition from television to the big screen, but there have been a number of actors who have made the leap in the past few years. Ben Schwartz, who fans may recognize as Jean-Ralphio Saperstein from Parks and Recreation, has seen quite a bit of success from playing the blue hedgehog himself in 2019's Sonic the Hedgehog. Since the breakout box office performance of the video-game adaptation, Ben Schwartz has revisited the idea of campaigning for a DC Hero role.
In a recent interview, the actor mentioned that he is still interested in taking up the role of Plastic Man. As he put it:
He reiterated his desire to play the stretchy superhero in an interview with Nerdist, ahead of the release of his upcoming film, Flora & Ulysses. While he notes that a movie based on the character hasn't happened yet, he's still open to taking up the role. He also mentioned that he's drawn to the character's signature comedy, which could work well on the big screen.
This isn't the first time that Ben Schwartz has entertained the idea of playing Plastic Man. He's been campaigning since 2018, when he first went to Twitter to seek out an application for the role. Almost a year later he made headlines for comparing plastic man to Marvel's Deadpool. While Warner Bros. did hire Amanda Idoko to write a script based on the character, it's been over two years since we've had an update on the project.
I wouldn't count a Plastic Man movie out though, the fact that Warner Bros. has a script floating around means that the possibility is always there. While that doesn't necessarily mean that Ben Schwartz will end up playing leading man Patrick Edward "Eel" O'Brian, he's made a pretty strong case so far.
It's hard to say exactly where Plastic Man would fit into the current DCEU. Warner could always go for an individual one-off movie, like they did with Joker, but who doesn't want to be a part of a franchise these days?
Unfortunately, it doesn't look like Plastic Man has made the shortlist of DC characters who will be appearing in the upcoming Zack Snyder's Justice League. But, with a script floating around and Ben Schwartz's continued interest, I wouldn't call it a stretch to see him involved with the project at some point.
Your Daily Blend of Entertainment News
Into tracksuits by Paulie Walnuts, the Criterion Channel and Robert Eggers.