Why Fargo Led Nomadland's Frances McDormand To Step Away From The Limelight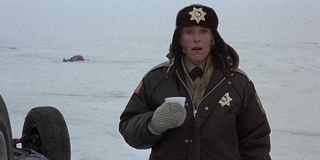 Part of being a celebrity is having to live in the limelight from time to time. While some love it, there are a number of famous actors who would prefer to not get that kind of attention. Nomadland lead Frances McDormand recently revealed that she is a member of the latter group, as her Oscar-winning Fargo performance led to a lengthy hiatus from the press.
During a recent interview with the New York Times, Frances McDormand revealed that she took a decade-long break from the press after skyrocketing to fame for her performance as Marge Gunderson in the Coen brothers' 1996 hit Fargo. Said the actor,
Rather than deal with all of the extra-curricular activities that come with being a famous actor, Frances McDormand revealed that she specifically chose to avoid the spotlight after her success with Fargo. According to her, the decision paid off. I'm inclined to agree since she went on to win another Oscar, in addition to a pair of Emmy's and a Tony award. Talk about an impressive career.
She's once again back in the awards spotlight this year for her performance as Fern in Chloé Zhao's Nomadland. McDormand has already been nominated at both the Golden Globes and the SAG Awards, and it's looking like she has a clear path to her sixth Academy Award nomination.
The sense of mystery that Frances McDormand was going for is harder and harder to come by these days. Almost every major celebrity has a Twitter account, Instagram or another form of social media where fans can stay up to date on their latest projects. If not, there's a good chance that they will be a part of the lengthy press tours that Hollywood is known for. But McDormand managed to opt out of all of that for a surprisingly long time, and her career didn't suffer in the slightest.
It's kind of cool, no? There's a bit of old-Hollywood intrigue that goes into the enigma of a major star. McDormand has nailed that mystique over the past couple of decades, bouncing from the big screen, to television and even the stage, all while picking up a number of impressive awards along the way.
Frances McDormand's latest film Nomadland is now available on Hulu (opens in new tab). While we won't know if she'll be competing for another Oscar until the nominations are announced on March 15, it wouldn't be surprised if she is considered a front runner for the prize. Don't expect her to be campaigning extra hard for a win, though, because she's just doing her job here.
Into tracksuits by Paulie Walnuts, the Criterion Channel and Robert Eggers.
Your Daily Blend of Entertainment News
Thank you for signing up to CinemaBlend. You will receive a verification email shortly.
There was a problem. Please refresh the page and try again.