Why Raya And The Last Dragon Is Not A Musical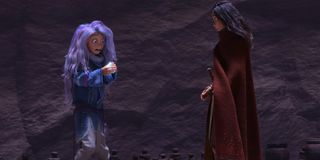 Disney movies produce so many of our favorite songs like Frozen's "Let It Go" and Moana's "How Far I'll Go." I love all things Disney and musicals, so whenever the two are married it's a win-win, but the latest Disney animation treasure Raya and the Last Dragon is my absolute favorite and it's not a musical! Writer Adele Lim explained why the creators opted against the musical route for this film.
If there are any parents out there who tense up at the thought of taking the kids to a new movie only for them to belt the songs over and over for all eternity, take comfort in knowing Raya and the Last Dragon won't do that to you. This film is not a musical, and for good reason, it seems that may have detracted from the tone of the story. I sat down with Adele Lim, one of the writers, for an interview with CinemaBlend, and she shared the following in regards to considering making Raya and the Last Dragon a musical:
Walt Disney Animation Studios wanted a kick-ass character and that is exactly what they delivered. The Druun mentioned by Adele Lim are a mindless plague that spread like wildfire, multiplying as they consume life and turn people to stone. They make up only some of the enemies Raya has to fight along her journey and definitely raise the stakes of the adventure.
While an action film, Raya and the Last Dragon is so much more than a good vs. evil story. Raya is certainly a hero on a quest to save the day, but she's also a girl with a broken heart. She has lost people close to her, she placed her trust in the wrong person, and she needs to heal. On top of that, the people in the land of Kumandra are divided from a past tragedy, and they also need to heal. The emotional depth reached by this film is truly moving in a way only Disney can do.
I agree with Adele Lim and all who worked on Raya and the Last Dragon that a musical was not a good match for this project. It is absolutely perfect the way it is, and as Lim mentioned as well the film does include many beautiful songs.
You can join Raya on her adventure with Raya and the Last Dragon in theaters and on Disney+ with Premier Access (opens in new tab) on March 5. After you see the film, come back and let me know: would you have liked a musical version of the film?
This poll is no longer available.
Obsessed with Hamilton and most things Disney. Gets too attached to TV show characters. Loves a good thriller, but will only tolerate so much blood.
Your Daily Blend of Entertainment News
Thank you for signing up to CinemaBlend. You will receive a verification email shortly.
There was a problem. Please refresh the page and try again.