Hamilton's Leslie Odom Jr. Reflects On The Challenge Of Letting Go Of Aaron Burr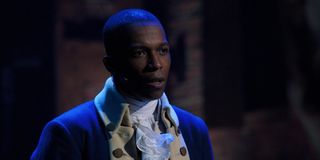 Many actors will tell you that their most significant roles stay with them long after they're done with a project. That's understandable -- because with acting, even when you're playing someone else, you put your own emotions and a part of yourself into that role. Leslie Odom Jr. knew that all too well when it came to his portrayal of Aaron Burr in Hamilton. In fact, he found it to be a challenge to let the role go once it was time to move on.
Hamilton has become a phenomenon since it debuted on Broadway in 2015 -- which is a rare feat for a piece of musical theater. In the years since, it's become more accessible to fans thanks to its popular original cast recording and a Disney+ movie. However, by the time the film hit the streaming platform and created a new wave of interest, the entire original cast had moved on to other projects.
While it's impossible to say how each of the cast members felt leaving behind the roles that solidified their place in Hollywood history, Leslie Odom Jr. has opened up about his own experience. He told Variety that it was a bit of a struggle to get used to a reality in which he wasn't Aaron Burr any longer:
It's clear that Leslie Odom Jr. was deeply invested in his portrayal of Hamilton's narrator and primary antagonist, but that's no surprise to fans. The actor's performance in the musical earned him numerous accolades, including a Tony Award.
The projects that Leslie Odom Jr. took on next no doubt helped him to recalibrate his post-Hamilton understanding of himself. He appeared in films like Murder on the Orient Express and Tubman and more recently, took on another real-life role in the form of Sam Cooke in a Golden Globe-nominated performance for One Night in Miami.
Still, there's a difference between playing a character on film and bringing them to life over the course of a few weeks and performing the same role hundreds of times. So it's safe to say that Leslie Odom Jr.'s tenure with Hamilton was likely a unique experience, both in terms of his approach to the role and what it took to say goodbye.
Your Daily Blend of Entertainment News
Thank you for signing up to CinemaBlend. You will receive a verification email shortly.
There was a problem. Please refresh the page and try again.