Hamilton's Leslie Odom Jr. Explains How His Prep For One Night In Miami Compared To His Research For The Musical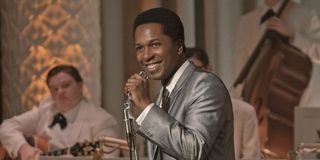 There's a unique pressure that comes from portraying a real person. Whether the figure the actor is playing is living or dead, whether they're well known or have become a footnote in history, the responsibility to get their stories right is huge. Leslie Odom Jr. is all too aware of that fact, having brought multiple historical figures to life -- and the actor says that there were both similarities and differences to how he approached research for Hamilton and One Night in Miami.
In the original Broadway production and subsequent Disney+ film of Hamilton, Leslie Odom Jr. played Vice President Aaron Burr -- the man perhaps best remembered for killing Alexander Hamilton in a duel. In Regina King's new film One Night in Miami, he played legendary singer Sam Cooke. The two roles are very different, both in terms of the historical context and in how they function within the story.
But according to Leslie Odom Jr., they both required big amounts of preparation. The actor told TheaterMania that he took every opportunity to learn about each of the men he was playing, even if he had to approach each one a bit differently:
While it may seem like playing Sam Cooke would have been easier, since there is video footage of him, that also may have added a different layer of pressure. Fans can more easily judge how well he brought that role to life, since they have an idea of what he looked and sounded like. With Burr, Leslie Odom Jr. was able to create and define the role in a different way.
Despite the challenges that came with both performances, Leslie Odom Jr. rose to the occasion. His performance in Hamilton was universally praised and won him a Tony Award. He's also earned kudos from critics and fans for his portrayal of Sam Cooke in One Night in Miami -- and he was nominated for a Screen Actors Guild award for Outstanding Performance by a Male Actor in a Supporting Role and a Golden Globe for Best Supporting Actor - Motion Picture.
Hamilton is currently available to stream on Disney+. One Night in Miami is available to stream on Amazon Video.
Your Daily Blend of Entertainment News