5 Walt Disney World Pandemic Changes That Are Actually Awesome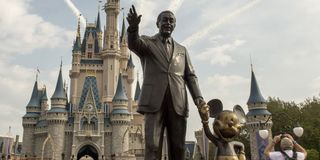 It's not exactly a controversial statement to say that a trip to Walt Disney World today isn't quite like it used to be. In order to open safely, the theme parks have needed to change the way they operate in many ways. Several of the most popular attractions, like fireworks shows and parades, are entirely on hold. Others, like some of the most popular rides, are running, but they don't work the same way. Though that's not to say that everything is off at Disney World. In fact, some of the ways that the parks have found to provide guests with a Disney World experience under current conditions are pretty great.
CinemaBlend recently made a trip to the most magical place on Earth to see what Walt Disney World was like right now, and I have to say that for the most part, the magic was very much intact. I actually really enjoyed some of the ways things worked inside the park because of the pandemic. To be sure, there are trade offs everywhere, and everything new comes at the expense of something else, but each of these items has a charm or a value all their own. Here are five things happening at Walt Disney World right now because of the pandemic that are actually awesome.
Some Attraction Lines Move A Lot Faster
Lines are the worst part of any theme park, and even with something like Walt Disney World's FastPass+, there's no avoiding them sometimes. Currently, FastPass+ is not available at Walt Disney World, as the parks are making use of all available queue space for social distancing. Even then, a lot of the lines stretch off well past attraction borders. But while lines may go on forever, many of them actually move quite fast, and some of them move faster than they ever have before.
Take, for example, something like the Haunted Mansion. While the attraction uses an omnimover system where the ride vehicles never stop moving, the line normally has to stop every few minutes as guests fill in the stretching room, experience the intro sequence and then exit the room for the next group. But the stretching room isn't in use currently; guests just walk right through it, so the line never really stops. We got in line for Haunted Mansion beyond the Columbia Harbour House, but were on board the ride within 15 minutes. Is the Haunted Mansion somewhat lesser without the stretching room? Absolutely, but at least as a trade off, the line moves a lot faster.
Characters Wandering The Parks
One of the major things that is missing from Walt Disney World right now are character meet-and-greet experiences. They were so popular among guests that they often had their own FastPass+ options so that you could skip the line to get your picture taken with them. Getting close enough for a photo is largely off limits right now, but there are some other options that, while they might not feel quite as personal, are still quite special.
Today, you'll find costumed characters in the parks, but they're just not standing in one place waiting for pictures. Instead, they're off in some spot where guests often can't go and having a fun time, either alone or with other character friends. You can always go for the long distance selfie move if you want a picture with both of you in the frame, but seeing Winnie the Pooh or Joy just frolicking on the grass is sort of nice. They're all having fun for us to enjoy, but in a different way.
Buffet Dining Feels More Personal
Dining at Walt Disney World is one of the true pleasures of the resort, but one particular style of dining common in many places is the buffet, and for obvious reasons, those are difficult to do right now. You just can't have people walking up to grab food from a shared platter. Having everybody touching the same food is at least a potential problem itself, and managing the people getting it would be a nightmare.
But Walt Disney World has a solution. Now, in places that used to be buffet dining options, like Chef Mickey's at the Contemporary Resort, the various food options are prepared and each is brought to your table on a separate plate, so only those in your dining party are sharing food. It honestly feels more civilized than your normal buffet, and for food snobs (like myself), it feels a bit higher end. And you can still potentially stuff your face if that's what you want to do. They'll make more.
Character Cavalcades Are Like Parades, But Maybe Better?
One of the big crowd-pleasing events at all the Disney parks are parades, but the emphasis is on the word 'crowd.' If you want a good spot at a parade, you have to stake out your spot hours in advance, and if you're not trying to see the parade, then getting through that part of the park during the show is a nightmare. Parades simply can't happen right now. They'll be back, showing off just how impressive they can be, but their replacement is also pretty cool.
Walt Disney World is running what they call cavalcades, which covers a lot of different concepts, but they are frequently just a group of characters, maybe in a car or a single parade float, that show up on the main thoroughfare from time to time. There isn't much of a schedule, which means guests can't build crowds, and like the characters who just show up in the parks, it's cool to see them, enjoy them as they go by and then go about your day.
Social Distancing Reveals Parts Of The Parks You May Have Never Seen
As mentioned, social distancing has required attraction queues to run further than they have in a long time, if ever. While fewer people are technically in the parks, social distancing makes that fraction take up more space than ever before. This has forced Walt Disney World to get creative when it comes to figuring out just how and where to run the lines. They need to be in places they won't run into other people and the line can't double back on itself too much or people will end up too close together.
The result is that many lines run to parts of the park that are either usually off limits, or that you simply would never have any reason to go into. I found myself in an area of Big Thunder Mountain Railroad, some of which was clearly designed to be queue space, but that likely hadn't been needed since FastPass was first implemented. Other areas had clearly been themed for guests to see, but I can't imagine the circumstance under which it would ever happen. It's cool stuff to see all this, especially since we likely won't see much of these particular areas when things go back to normal.
While I'm not sure any of these five things are so cool that they are worth what we lost to get them, they are still pretty great in their own right. Under the circumstances, it's better than giving up the things we love and getting nothing in return. I look forward to when things get back to normal at Walt Disney World and I can enjoy the stretching room and parades, and all the rest. But until then, at least there's something special and unique in its place, and I'll miss them too when they're gone.
Content Producer/Theme Park Beat
CinemaBlend's resident theme park junkie and amateur Disney historian. Armchair Imagineer. Epcot Stan. Future Club 33 Member.
Your Daily Blend of Entertainment News
Thank you for signing up to CinemaBlend. You will receive a verification email shortly.
There was a problem. Please refresh the page and try again.