5 Attractions Walt Disney World Won't Be Bringing Back Yet When The Parks Reopen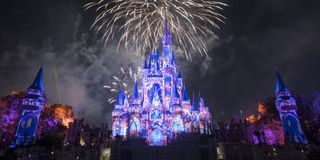 Yesterday was an exciting day for people who have going slightly mad waiting for Walt Disney world to reopen. The resort revealed its plans to reopen Magic Kingdom and Disney's Animal Kingdom Parks on July 11, with Epcot and Disney's Hollywood Studios opening July 15. Following approval by Florida's Economic Recovery Task Force and the Mayor of Orange County, the plan now only needs the sign off of Florida's governor, and that's fully expected to happen.
There will, of course, be some changes to the ways that Walt Disney World operates when it reopens in about six weeks. Guests and cast members will be required to wear face coverings, and temperature checks will done as people enter the park. And only a fraction of normal attendance will be allowed into the parks to allow for social distancing measures to be effective.
These are minor inconveniences at worst. However, some of the other precautions being taken in an attempt to prevent the spread of any virus will actually have an impact on the Walt Disney World experience as a number of traditional park attractions and activities will be put on hold and won't be available when the parks open in July. Here are the things you won't be able to see or do for some period of time.
Parades
One of the biggest hurdles that any and all theme parks will have to deal with is figuring out how to function when large crowds of people are a constant part of what a theme park is. How does one socially distance oneself in a theme park? Part of the Walt Disney World plan for making that work is simply not to tempt people to gather into stationary crowds, and that means there will be no parades rolling down Main Street U.S.A. for the foreseeable future.
The most popular parades tend to be seasonal events surrounding holidays like Halloween and Christmas, so there's time for parades to be reintroduced into the schedule before we get to that point in the calendar. Still, all Disney parades have some creative floats and fun music that will likely be missed.
Nighttime Spectaculars
On Walt Disney World's last night of operation before shutting down, the park received criticism when photos of the Happily Ever After fireworks show from Magic Kingdom appeared online. While it was known that the resort would be closing due to the pandemic, the crowd in front of Cinderella's Castle and all down Main Street was massive. That's still going to be an issue with the park reopens, and so that means all nighttime shows in the parks will be put on hold. That means no fireworks at Magic Kingdom, no Fantasmic at Disney's Hollywood Studios.
Animal Kingdom's Rivers of Light as well as Fantasmic take place in amphitheaters with seating, so a reduced crowd could potentially still see those, but the mechanics of getting the crowds in and out is likely just too complicated. The actual fireworks shows are just a mass of humanity as people pack in to try and get the best view. Getting people to follow social distancing protocols would be impossible.
Character Meet-And-Greets
It's difficult to understate just how popular the walk around characters in the parks are with many guests. Getting a photo with Mickey or Donald or even Baymax can have a wait time that rivals some of the most popular thrill rides. Unfortunately, getting a photo with Mickey means standing really close to another person, and so those photo ops will be off limits for the time being.
While you won't be able to get an up close photo with your favorite character, the characters will still be in the park. Instead of standing still, they'll just walking around the parks and saying hi to guests. Maybe try a selfie with your favorite character in the background. Photobombs are perfect for taking pictures while social distancing.
Playgrounds
If you've ever been a parent on a Disney vacation, or ever been a parent ever, you know that sometimes the best thing for kids, and their parents, is just to let them run around like mad until they collapse. Doing that inside a theme park is rarely a good idea, but that's why many Walt Disney World Resort hotels have playgrounds. However, they will all be closed for the duration as well. While recent evidence appears to show that picking up COVID-19 from surfaces is difficult, you'd still have a bunch of kids running around near each other, and even though the virus seems to not impact them as much, nobody wants them acting as carriers either.
Disney Makeovers
Sometimes, you just want to look like a Disney Princess (or Prince). Whether you're a little kid who wants to be done up like Cinderella at the Bibbidi-Bobbidi Boutique or an adult looking to go "Character Couture" there are a lot of options in the parks and hotel spas for Disney makeovers. Of course, such a makeover would require a prolonged period of close contact with another person, and so even while wearing a mask there's an increased risk. As such, all makeover opportunities will be off until further notice.
Of course, getting a full makeover while you have to wear a mask is probably a little much, so maybe this won't be the end of the world. Although I'm betting the Disneybounding crowd is going to have a ball working masks into their ensemble now that they're finally allowed to wear them.
A lot of people had to cancel or postpone Walt Disney World vacations due to the closure, and now those that had them booked for further down the road will have some decisions to make. For some people, not being able to watch Disney World fireworks is going to be a huge loss. If somebody had a little one with reservations for the Bibbidi-Bobbidi Boutique, mom and dad now need to explain why that can't happen.
For many, these inconveniences will likely be taken in stride. No parade might be frustrating, but it's no deal breaker. For others, hearing Patrick Stewart's calming voice in the Happily Ever After fireworks show might be exactly what they need, and not having it just won't be the same. Hopefully, these popular attractions and experiences won't need to be gone for too long.
Your Daily Blend of Entertainment News
Content Producer/Theme Park Beat
CinemaBlend's resident theme park junkie and amateur Disney historian. Armchair Imagineer. Epcot Stan. Future Club 33 Member.