The Two James Bond Films That Tried To Bring Sean Connery Back In A Cameo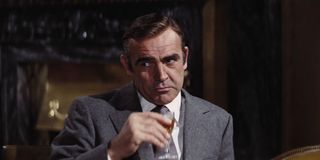 CinemaBlend participates in affiliate programs with various companies. We may earn a commission when you click on or make purchases via links.
James Bond's cinematic legacy will always owe an amazing debt to the man who helped put 007 on the map: the late Sir Sean Connery. Originating the role in 1962's Dr. No, Connery would leave his everlasting stamp through six official EON Productions films, and even reprise the role outside of the official canon. But perhaps the greatest signal of how much Sean Connery meant to the James Bond franchise is the fact that, in the case of two modern Bond entries, there were ideas regarding how to try and bring the first Bond back into the fold.
What's even wilder than the fact that both 2002's Die Another Day and 2012's Skyfall tried to get Sir Sean Connery to play some rather interesting cameos are the concepts for those random appearances that would have seen him return. Naturally, none of these concepts came to pass, and one is purely a rumor that persisted through the power of popular retelling, but these pitches would have been pretty huge shifts in the 007 canon. Before we go too far, let's discuss how Sean Connery's time as James Bond came to an end.
The Last Official James Bond Movie To Star Sean Connery
If we're going by the official EON Productions timeline of James Bond films, Sir Sean Connery's final performance as 007 was in 1971's Diamonds Are Forever. With the disappointment in box office grosses surrounding On Her Majesty's Secret Service hanging in the air, as well as the departure of George Lazenby from the role of James Bond, Connery was invited to come back for one last go, but not before trying to lure in some other potential replacements, such as Clint Eastwood and Adam West.
Eventually, the decision was made to seek out Sean Connery, with the decision to offer him pretty much a blank check as compensation. The actor would agree to return, donating his entire salary for the film to founding the Scottish International Education Trust. Diamonds Are Forever was supposed to be the final appearance of Connery in the role of James Bond, as he said he'd never return to the role again after that point. History, and the entire title of his absolutely final James Bond movie, tell the truth behind that very notion.
The Last Time Sean Connery Played James Bond, Non-Canonically
After winning the rights to both the SPECTRE organization, as well as the character of Ernst Stavro Blofeld, writer/producer Kevin McClory tried to remake the story of Thunderball on a couple of occasions. And the one time it actually happened was with 1983's Never Say Never Again. Competing with an official James Bond film in that very year, as Roger Moore's Octopussy was also releasing in that same year, the non-EON 007 film might have been a token of revenge against the franchise proper, seeing as Blofeld was unceremoniously killed in the pre-title sequence of 1981's For Your Eyes Only.
While Never Say Never Again was the absolutely final theatrical endeavor that Sir Sean Connery would play James Bond in, one obscure performance lost to time would mark the last time the actor would ever deliver the line "Bond, James Bond" on camera. Per an item from author Mark Edlitz's The Lost Adventures of James Bond, his interview with director Jeremiah Chechik pegs the production of the 1998 film The Avengers as the last time Sir Sean Connery would ever embody the role of 007. Filmed as a birthday greeting for future James Bond franchise actor/previous contender for the role Ralph Fiennes, no one outside of the production has seen that moment. If it were up to the people that made, or even hinted, at the attempts we're about to recount though, history would have been extremely different.
Attempt #1: Die Another Day (2002)
To celebrate the 20th James Bond film, as well as the 40th anniversary of the cinematic franchise, Die Another Day was the source of two different stories that had Sean Connery potentially returning to the 007 canon. Both stories are wildly different, and one is easier to confirm than the other, but these twin tales of cameos that could have been still persist in pop culture history to this day. Starting off this chapter is the rumor that would have Connery playing a really interesting role related to Pierce Brosnan's James Bond.
The Rumor - Double-Oh Daddy?
A rumor that stretches as far back as the production phase of Die Another Day, I can still remember hearing the whispers that Sean Connery had come back to play a unique cameo that would have broken minds as quickly as it broke official James Bond canon. The big scuttlebutt surrounding Sir Connery's potential return to EON Productions canon, as reported by MovieHole, was that the legendary actor had returned in the role of James Bond's father through a scene that was alleged to have been filmed, but cut. Which would have been really cool, except for two big caveats: in Ian Fleming's canon, James's father Andrew died when he was 11; and in the canon of reality, this cameo never happened.
Thanks to a television news report that supposedly broke the news during production, Die Another Day had this rather mythic sized rumor attached to its history. But the debunking would eventually come, leaving this supposed happening in the dustbin of speculation. As listed in the IMDb trivia for the film, franchise producers Michael G. Wilson and Barbara Broccoli put this rumor to rest, stating that it would have been a waste of time and money to be sitting on a cameo from Sir Sean Connery. Though, in the world of Die Another Day's official production, there was one attempt that was actually revealed from official channels.
The Reality - The Codename Theory Endures
While the rather paternal-sounding cameo for Die Another Day was never filmed and likely never even originated from the official production, Sir Sean Connery was kept in mind by someone else very close to the movie's genesis. Director Lee Tamahori admitted in a 2002 interview with Total Film (via CBR) that he'd actually had plans for how Connery could have returned. In his explanation for what would have happened in his proposed version of events, Tamahori pushed the following fan favorite scenario:
Now this idea is way more plausible than the fatherly cameo Sir Sean Connery was supposedly going to be involved in. As we're about to see in No Time To Die, the 007 code number can be handed off to someone else, much as it has been assigned to Lashawna Lynch's Nomi in James Bond's absence. However, seeing as Pierce Brosnan's Bond was still part of the loose continuity that the classic run of films had maintained, this would have been a potential confirmation of the fan favorite theory that "James Bond" is a codename, and not an actual identity. So if I was to guess as to why this cameo was shot down, it was probably for the name, not the number, associated with the 007 legacy.
Attempt #2: Skyfall (2012)
It seems like this sort of thing always takes place during a benchmark anniversary for the James Bond series. Add another 10 years to the calendar, and Sir Sean Connery's name is going to come up as a way to celebrate his part of that iconic legacy. Director Sam Mendes copped to his own scenario of bringing Mr. Connery back for a big cameo, as the 50th anniversary of 007's history saw Skyfall releasing into theaters. As Mendes previously told The Huffington Post in an interview promoting the 23rd James Bond film, talks were indeed had to try and coax the then retired actor out into playing a part in ushering in another era of the series he helped create:
Allegedly, Sir Sean Connery was to be recruited to play a role similar to that of Kincade, the groundskeeper of James Bond's ancestral home, and the source of the film's title. That part was played in the finished film by the legendary Albert Finney, and the sardonic fixture from Bond's past was supposedly rewritten, after another interesting twist of the tale; one that felt like it would have revisited a familiar theory yet again.
This comes from a later report from Den of Geek, in which sources claiming to be close to Skyfall's production had said that Sean Connery had gone as far as rehearsing the scene on camera, but due to "ill health," he had to back out entirely. If this incarnation had come to pass, he would have been playing someone heavily implied to be a former 00 agent, and should the report above be accurate, former Bonds George Lazenby and Timothy Dalton were also offered the role, before the big rewrite. If anything should be taken from this scenario, it's the following: writers should stop trying to make the "James Bond is a codename" theory happen.
Would a cameo from Sir Sean Connery have been uber-distracting and just as confusing to the James Bond continuity? It absolutely would have, as the various scenarios mentioned would have shaken and stirred audiences. But would a Connery appearance in Die Another Day or Skyfall been something really cool to behold? More than likely, yes. With his later years seeing him retire from film acting after The League of Extraordinary Gentlemen, the constant talk of trying to get Sean Connery out of retirement was something fans were really hopeful about. But unfortunately for them, neither James Bond, nor Henry Jones Sr. were enough to get the Scottish legend to get back to the movies. At least, that depends on how true the history we've just discussed turns out to be in the long run.
Your Daily Blend of Entertainment News
Senior Movies Contributor
CinemaBlend's James Bond (expert). Also versed in Large Scale Aggressors, time travel, and Guillermo del Toro. He fights for The User.
Your Daily Blend of Entertainment News
Thank you for signing up to CinemaBlend. You will receive a verification email shortly.
There was a problem. Please refresh the page and try again.