Dwayne Johnson's Black Adam: An Updated Cast List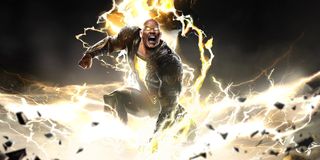 In 2019, nearly 80 full years after he made his comic book debut in Whiz Comics #2, Shazam (or as he used to be known, Captain Marvel) finally made his cinematic debut, with Shazam! becoming one of the most critically acclaimed movies in the DC Extended Universe. Originally the plan was for the superpowered Billy Batson to fight Black Adam in his origin story, but it was later decided to pit the hero against Dr. Thaddeus Sivana instead. As for Black Adam, it was announced in early 2017 that he would instead debut in his own movie, although rest assured, there will almost certainly come a day when Shazam and Black Adam finally fight on the big screen.
While specific plot details for Black Adam are still being kept secret, the movie will explore how the man once known as Teth-Adam gained his amazing powers in ancient Kahndaq, as well as see him clash with the Justice Society of America. Luckily, we're able to piece together a little more of what to expect from the upcoming DCEU movie by looking over who's making up the main cast, starting with the man bringing Black Adam to life, Dwayne "The Rock" Johnson.
Dwayne Johnson
To say Dwayne Johnson has been itching to play Black Adam for a long time would be an understatement. In the late 2000s, years before the DCEU was a thing, Johnson was in talks to play Black Adam in an earlier incarnation of the Shazam! movie. Then in September 2014, it was officially announced that Johnson would appear as Black Adam in the DCEU's Shazam!. Of course, the 2010s have seen Johnson's popularity in Hollywood skyrocket, so it makes sense why Warner Bros and DC decided to give Black Adam his own movie. Admittedly, his Fast & Furious character Luke Hobbs is basically superhuman, but Black Adam will give Johnson the opportunity to finally delve into the comic book movie realm. In addition to playing the Kahndaqian anti-hero, Johnson is also executive producing the project.
Aldis Hodge
The Justice Society of America's lineup in Black Adam is much smaller than it usually is in the comics, but fortunately, two of its founding members from the printed pages will appear in the movie. The first of them is Hawkman, a.k.a. Carter Hall, with The Invisible Man's Aldis Hodge bringing him to life. Hawkman derives his ability to fly from the alien material known as Nth metal, and what makes Carter especially interesting is that he was once Prince Khufu in ancient Egypt. Thanks to a curse cast when he and his lover, Chay-Ara, were murdered, the couple have been reincarnated over many lifetimes. Hodge has confirmed that Black Adam will delve into Hawkman's African roots, but unfortunately, this version of the hero won't be accompanied by Hawkgirl.
Noah Centineo
Starting in the late 1990s, the Justice Society became a mix of old guard superheroes and younger crimefighters, and one of their biggest recruits at that time, figuratively and literally, was Albert Rothstein, a.k.a. Atom Smasher. Unlike The Atom, who shrinks, Atom Smasher is able to increase his size, which also enhances his strength and durability. Noah Centineo, who's best known for Peter Kavinsky in the To All the Boys movies on Netflix, has been tapped to play Atom Smasher in Black Adam, marking the character's second depiction in live-action following WWE star Adam Copeland playing a antagonistic Rothstein in The Flash TV series.
Quintessa Swindell
Another one of Justice Society's younger recruits is Maxine Hunkel, a.k.a. Cyclone, who's the granddaughter of Ma Hunkel, the Golden Age Red Tornado. While her grandmother was a powerless crimefighter, Maxine is able to manipulate wind, a power she gained after being experimented on as a child by Dr. T.O. Morrow, the creator of the Red Tornado android. Black Adam will be the first time Cyclone has appeared outside of the comics, and Quintessa Swindell, who starred in the Netflix series Trinkets and is appearing in the upcoming Voyagers, will play the character.
Sarah Shahi
If you're familiar with Sarah Shahi, chances are you've seen her on TV shows like Life, Chicago Fire, Person of Interest or The Rookie. But she also has many film credits on her resume, though there's no question that Black Adam will mark her biggest cinematic appearance yet. Shahi's character hasn't been officially identified yet, but this individual has been described as a "university professor and freedom fighter leading the resistance in Kahndaq." Factor in her comic book reading material, and I suspect that Shahi is playing Adrianna Tomaz, a.k.a. Isis, an enslaved refugee who Black Adam freed, fell in love with and empowered with his magic. A drastically different version of the character named Zari Tomaz stars on Legends of Tomorrow, Black Adam could be a good platform to feature a more traditional version of Adrianna, assuming she is indeed involved with the story.
Marwan Kenzari
Next we come to Marwan Kenzari, who some know best as Jafar in the live-action Aladdin remake, while others may be for fond of his role as Joe/Yusuf Al-Kaysani in Netflix's The Old Guard. Either way, like with Sarah Shahi, we don't know yet how Kenzari fits into the Black Adam picture. Perhaps he's been brought abroad to play the powerful DC sorcerer, or maybe he's playing Amon Tomaz, Adrianna's brother. Maybe he's been tapped to play a character who doesn't even hail from the comics. It's anyone's guess right now, but at least this gives Kenzari another blockbuster stage to shine on.
Pierce Brosnan
Nearly two decades after his tenure as James Bond ended, Pierce Brosnan is finally entering the superhero movie space as the final member of the Justice Society of America. He'll star in Black Adam as Kent Nelson, a.k.a. Doctor Fate, one of the most powerful sorcerers in DC Comics lore. Kent is the first of many individuals to serve as Doctor Fate, having debuted in the comics in 1940. Brosnan is the second 007 actor to star in a DC Comics project, as Timothy Dalton currently plays Dr. Niles Caulder in the HBO Max series Doom Patrol. In recent years, you might have seen Brosnan starring in movies like The Foreigner, Mamma Mia! Here We Go Again and Eurovision Song Contest: The Story of Fire Saga, or maybe you caught his stint as Eli McCulloch on the AMC series The Son.
James Cusati-Moyer
James Cusati-Moyer has appeared in TV shows like Blue Bloods, Prodigal Son, Red Oaks and The Path, but his main claim to fame is the stage. Cusati-Moyer made his Broadway debut in Six Degrees of Separation, and he scored a Tony nomination for his turn as Dustin in Slave Play, a role he performed both Off-Broadway and on Broadway. Fresh off shooting the Shonda Rhimes Netflix series Inventing Anna, Cusati-Moyer is making the jump to film with Black Adam, although no details have been provided about who he's playing.
Bodhi Sabongui
Bodhi Sabongui has already built an impressive resume at such a young age, having appeared in the Netflix movie The Main Event, as well as TV shows like A Million Little Things, Legends of Tomorrow and The Babysitter's Club. There's no question, however, that Black Adam is his biggest project yet, and while it hasn't been revealed who he's playing yet, THR described it as a "key role" in the eponymous character's canon. Given Sabongui's age, I suspect he's playing Aman, who was Teth-Adam's nephew in ancient Kahndaq in the New 52 continuity. The Wizard Shazam selected Aman to be his new champion, but Aman wanted to use his abilities to help people rather than seek vengeance on those who'd enslaved them like Teth-Adam wanted. So when Aman next said "Shazam," Teth-Adam seemingly killed his nephew so that he could obtain his power. If the Black Adam movie recreates this moment, this will be an incredibly dark by PG-13 standards.
Mo Amer
While Mo Amer is chiefly known as a standup comedian, he has some acting experience under his belt, namely from playing the same-named character on the Hulu series Ramy. Now, in addition to having the comedy movie Americanish lined up, Amer has joined the Black Adam cast. No details about his role have been revealed, so it's unclear if he'll take part in the present day storyline or be involved in the ancient Kahndaq narrative.
Uli Latukefu
If you feel like you've heard this guy and Dwayne Johnson mentioned in the same sentence before, that's because you have! Uli Latukefu stars in the NBC series Young Rock as Johnson in his college-aged years, and he's also starred in Alien: Covenant and Marco Polo. While one might assume that Latukefu will play a younger version of Teth-Adam in the Black Adam movie, that actually hasn't been confirmed. For all we know, he could end up playing a different character who shares some screen time with Johnson's mighty protagonist.
Directed by Jungle Cruise's Jaume Collet-Serra, Black Adam was once supposed to come out in December 2021, but right now, it's undated. Once a new release date is announced, we'll let you know, but in the meantime, keep track of other DCEU installments lined up for the coming years with our upcoming DC movies guide.
Your Daily Blend of Entertainment News
Connoisseur of Marvel, DC, Star Wars, John Wick, MonsterVerse and Doctor Who lore. He's aware he looks like Harry Potter and Clark Kent.
Your Daily Blend of Entertainment News
Thank you for signing up to CinemaBlend. You will receive a verification email shortly.
There was a problem. Please refresh the page and try again.