Black Adam Actress Teases Her Mystery Role, And It Points To A Key Character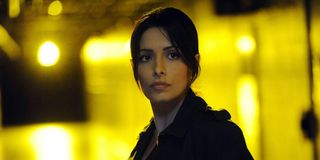 Of all the actors who've been announced for Black Adam so far, only one person's role has been kept vague. Last October, it was reported that Person of Interest star Sarah Shahi was joining the upcoming DC Extended Universe movie as "a university professor and freedom fighter leading the resistance in Kahndaq." However, Shahi's recent tease of the research she's conducting for Black Adam lend credence to the speculation that she's playing Adrianna Tomaz, a.k.a. Isis.
When one is starring in a comic book movie as a character from the original source material, naturally it makes sense to read comics for research. That's just what Sarah Shahi is doing for Black Adam, as evidenced by the following Instagram post:
Black Adam: Year of the Villain #1 is the most recently-released of these three comic book issues; coming out in October 2019, it saw the titular anti-hero facing off against a version of Shazam who'd been infected by the sinister Batman Who Laughs. However, it's the two issues of the 52 maxi-series in Sarah Shahi photo that are particularly intriguing. That series, which followed the Infinite Crisis miniseries and published weekly from May 2006 to May 2007, featured Black Adam as one of its principal characters and brought Isis into his life.
To summarize for those who haven't read 52, Adrianna Tomaz was an enslaved refugee who Black Adam rescued from Intergang. Falling in love with Adrianna, who was unafraid of Adam and convinced him to become a better person so he could change the nation of Kahndaq for the better, Adam retrieved the magical amulet of Isis and bequeathed it to Adrianna so she could become the superpowered Isis, inspired by the heroine who led the '70s TV series The Secrets of Isis. When Adam and Isis rescued Adrianna's brother Amon, he gained the ability to turn into Osiris, and together they made up the Black Adam Family.
I won't spoil where 52 takes these characters, though don't count on them getting a happy ending. Nevertheless, Isis continued to be an important person in Black Adam's corner of the DC universe up until the New 52 reboot. And although the Arrowverse series Legends of Tomorrow boasts a version of Isis named Zari Tomaz, the character bears little resemblance to her predecessors, namely because she hails from the future and wields the Air Totem. As such, the Black Adam movie would be a great platform for a more faithful Isis to be featured.
Again, we don't know for sure yet if Sarah Shahi is playing Adrianna Tomaz/Isis in Black Adam, but the fact that she's reading 52 presents a strong case for it. That being said, even if Adrianna is appearing in Black Adam, that doesn't necessarily mean she'll become Isis right away. After all, the movie will see Dwayne Johnson's Black Adam facing off against the Justice Society of America, which consists of Hawkman, Atom Smasher, Cyclone and Doctor Fate in the DCEU. All those characters, plus the possibility that a full-fledged villain will show up, might mean it'd be too crowded for Isis to properly shine, thus leading to Adrianna gaining her powers in the Black Adam sequel instead.
In any case, once it's been confirmed who Sarah Shahi is playing in Black Adam, we'll be sure to let you know. For now, along with Dwayne Johnson, Shahi's costars include Noah Centineo as Atom Smasher, Aldis Hodge as Hawkman and Quintessa Swindell as Cyclone. Jungle Cruise's Jaume Collet-Serra is directing, and Rory Haines and Sohrab Noshirvani wrote the most recent draft of the script. Filming is expected to begin this spring.
Black Adam was previously set to come out this December, but it's now unscheduled. Stay tuned to CinemaBlend for updates on its development, and keep track of other DC movies on the way with our detailed guide.
Connoisseur of Marvel, DC, Star Wars, John Wick, MonsterVerse and Doctor Who lore. He's aware he looks like Harry Potter and Clark Kent.
Your Daily Blend of Entertainment News
Thank you for signing up to CinemaBlend. You will receive a verification email shortly.
There was a problem. Please refresh the page and try again.