Matthew McConaughey Started A YouTube Channel, And The First Video Is Alright, Alright, Alright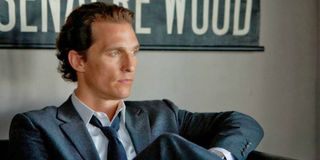 In what may honestly be the coolest thing to happen all year, Matthew McConaughey has started a Youtube channel, and in it, he has his classic undeniable and undiluted McConaughey charm. That in itself is pretty amazing, but if you needed another whole layer of awesome, McConaughey starts off his first video on the channel beginning the same exact way his film career did all those years ago in Dazed and Confused: with a smooth "Alright alright alright."
If we take Matthew McConaughey's first video at face value, we can pretty much bank on his YouTube journey to be just as cool as he is. The actor kicking off his first video with his famous "Alright alright alright" seems like he is setting up a fresh new beginning to a project that may just be as interesting as the life the actor/jack-of-all-trades has lived. Watch it for yourself below:
In the video, Matthew McConaughey pretty much promises a number of things to happen on his YouTube account, all of which I am down for. According to McConaughey, we can expect quite a lot from the Dallas Buyers Club actor, including updates on what he is working on from time to time, stories and life tips - or, as McConaughey calls them, "prescriptions in the art of living."
Matthew McConaughey is arguably one of the most well known actors in Hollywood, and for good reason. He has had a wildly successful career in a number of genres, playing a huge range of characters. One thing that makes him a truly noteworthy face in the business is his unyielding ability to make a character his own. Whether portraying a high school dropout stoner, a ruthless gangster or a dying gambler, he is unmistakably Matthew. He becomes a character without losing himself, or at the very least, his charm.
While Matthew McConaughey's film career is still going strong (albeit, slowly), he has opened up his world with a number of new directions. In addition to the wild ride that has been his movie career as both an actor and director, McConaughey is the face of Wild Turkey and also holds the role of creative director for the bourbon company. He is a businessman, as well as an active philanthropist, and it appears he has now brought the cool air about himself to YouTube's platform with his own channel.
I'll be honest here, I only watched about ten seconds of the video before hitting that subscribe button. Matthew McConaughey just has a way about him; his tone of voice, flow of words and mannerisms come together in a perfect symphony to make you really feel the things he says. I'm not saying that if McConaughey started a cult that I would willingly join up without a question, but….okay, that's exactly what I'm saying. I'm hooked and hanging on for another video update from the King himself.