6 James Bond Side Characters That Were Supposed To Return In The 007 Movies And Never Did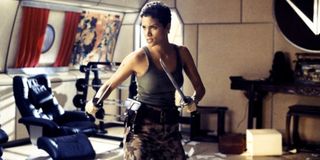 The carousel of figures who come in and out of James Bond's life is a fast and dangerous ride. Most either leave the field by dying or just never coming back; but in the case of a lucky few, there were plans to see some side characters returning in future films. Unfortunately, fate and other factors did not allow this to happen, leaving a prolific history of figures that were supposed to return in the 007 movies. In a world where even Felix Leiter isn't guaranteed to come back, here are some of the most surprising characters that could have re-teamed with James Bond, but never did.
Sylvia Trench
Played by the late Eunice Gayson, Sylvia Trench is the first woman we see Sean Connery's James Bond paling around with; in fact, she even helped usher in his ultimate catchphrase. Not only does Ms. Trench feature at the beginning of Dr. No, she also turns up on a date with Bond during his first moments in the sequel, From Russia With Love. As it turns out, this was part of a pretty substantial plan to have Sylvia Trench appear as somewhat of a regular girlfriend for 007. While we definitely know that Sylvia was scrapped from an appearance in Goldfinger thanks to a decision made by director Guy Hamilton, there was a larger plan that would have seen the character play a more crucial role.
A notion has been floated that Sylvia Trench was meant to be in the first six James Bond films, with Ms. Trench presumably taking center stage in On Her Majesty's Secret Service. Seeing as that was the entry that saw Dame Diana Rigg's Tracy Bond meet her untimely fate, it sounds like Sylvia Trench could have been the originally planned sacrifice that would have set up Bond's iconic rivalry with Ernst Stavro Blofeld.
Major Anya Amasova
The lead Bond woman in 1977's The Spy Who Loved Me, Major Anya Amasova, codename "Triple X," was a formidable partner for Roger Moore's 007. Played by actress Barbara Bach, the Russian operative sent by 007 franchise fixture General Gogol (Walter Gotel) would aid in the investigation, and eventual destruction, of evil shipping magnate Kurt Stromberg (Curt Jurgens). Though future plans would have seen Major Amasova depicted as being closer to her handler than we would have expected.
The supposed plan was for Anya to make a cameo appearance in 1979's Moonraker, and if this had come to pass, she would have been shown as a lover to General Gogol. But for an unspecified reason, this never happened. Seeing as Barbara Bach was busy making five movies over the course of 1978 and 1979, her schedule may not have allowed for her return to the Bond franchise. Whatever the truth may be, this might not have been the best choice for the return of one of the strongest Bond Women to match wits with 007 himself.
General Leonid Pushkin
If it wasn't for some legal wrangling that delayed the production of what would have been Timothy Dalton's third James Bond film, there's a chance that he would have starred in an earlier version of Goldeneye. With an original draft written by Michael France dating back to 1993, there were several noticeable differences in what would eventually become Pierce Brosnan's grand debut in 007 history. As Dalton was intended to carry over, so was one of his previous co-stars: John Rhys-Davies' Russian general Leonid Puskin.
Last appearing in The Living Daylights, General Puskin would have returned in a brief scene where James Bond not only helps him select a superior caviar, he also grills him on the death of a defecting KGB spy. Alas, after several years of legal battles and Timothy Dalton's refusal to renew his license to kill, the script would eventually be revised by writer Bruce Feirstein, and Pushkin would be no longer included. While there's a history of actors carrying on various roles between the changing of the guard, sometimes the circumstances just don't fit the bill.
Colonel Wai Lin
After her appearance in 1997's Tomorrow Never Dies, Michele Yeoh's Colonel Wai Lin became another notable addition to the halls of Bond Women who weren't mere spectators to the action. Instrumental in defeating media baron Elliot Carver (Jonathan Pryce), Colonel Lin did eventually share a romantic moment with James Bond; but only after resisting his charms until the mission at hand was completed. This demeanor, in addition to making for a perfect foil to Pierce Brosnan's 007, was a sign of things to come that never panned out.
Two very unique opportunities would have seen the return of Wai Lin in the James Bond franchise. The first was a planned spinoff that producers Barbara Broccoli and Michael G. Wilson were intent on getting into the works. Needless to say it never happened, despite the character's popularity after her Tomorrow Never Dies debut; which led to a smaller, but still intriguing opportunity that failed to materialize down the road in 2002's Die Another Day. With a disheveled Bond washing up in Hong Kong, and in need of assistance outside of the normal channels, Colonel Lin would have saved Bond in an elevator fight before providing him crucial intelligence to chase down henchman Zao (Rick Yune) in Cuba. Scheduling conflicts with Michelle Yeoh were to blame for this never coming to pass, which is a shame, as this really could have improved the rather spotty final outing of Pierce Brosnan's Bond.
Giacinta "Jinx" Johnson
Die Another Day, despite having some interesting elements contained within, is the ultimate hub of missed opportunities in the James Bond franchise. Not only did we miss out on Wai Lin's return to the series in the swan song of the original age of continuity, but another spinoff opportunity saw itself rise, and eventually fall, as a companion to the 20th 007 adventure. An entire prequel was set to delve into the life of Halle Berry's Giacinta "Jinx" Johnson before she joined the NSA.
If Jinx had gone ahead, longtime Bond series writers Neal Purvis and Robert Wade would have shown us Jinx's tragic origins, through the death of her parents. Eventually, vengeance and a misplaced cache of nerve gas see James Bond's future ally learning the ropes and putting villains in their place. Honestly, this idea still holds up, should the folks at EON Productions want to diversify their spy portfolio, Jinx could be a lucky hand that the world is finally ready for.
Camille Montes
Camille Montes was the Bond woman who helped 007 get over heartbreak, while also exposing the terror network that was Quantum in 2008's Quantum of Solace. As Olga Kurylenko's baptism in the world of action films, the role was a dangerous, but rewarding experience when it came to all the stunt work required on set. Which is good, because if the rumors from the time of that film's promotion were true, Camille could have come back for more fun in the Bond film that followed.
Much as there were talks to bring Sean Connery back as the groundskeeper of the titular Bond homestead, Skyfall apparently saw Kurylenko's character in the mix for a moment. Though the reports that announced this possibility, which seem to have come from an interview with Barbara Broccoli herself, seem to have disappeared to the sands of time. But bringing back Camille in an adventure as personal as Skyfall could have been interesting, though if you think about it, that may have been the twist of fate that allowed Naomie Harris to step in as the new face of Moneypenny.
You never know who's going to return in James Bond's fast-paced, world-saving lifestyle. It's that unpredictability that leaves fans hoping that someday fan favorites like the ones mentioned above might be brought back to partake in another adventure. And with spinoffs for both Moneypenny and Nomi still hanging in the air, those hopes could turn to realities, if EON Productions is ready to play ball. For now, we'll just go back to counting the days to No Time To Die's October 8 debut, and we'll put these wishful thoughts on the back burner. If there's any universe that's taught us never to say never, it's the 007 franchise.
Your Daily Blend of Entertainment News
Senior Movies Contributor
CinemaBlend's James Bond (expert). Also versed in Large Scale Aggressors, time travel, and Guillermo del Toro. He fights for The User.
Your Daily Blend of Entertainment News
Thank you for signing up to CinemaBlend. You will receive a verification email shortly.
There was a problem. Please refresh the page and try again.