11 Bond Women Who Were Truly 007's Equal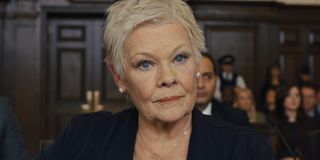 A career as a super spy isn't the safest or most secure line of work. Even if you're as good at the game as James Bond is, there are still times when the right partner makes all the difference in the world. But throughout the history of the Bond franchise, there have been 11 very important women without whom the job would have never gotten done. Some started as villains, others were uneasy allies, and in one special case, varying measures of help and harm kept things interesting in the most astonishing way.
Pussy Galore, Goldfinger
When she first entered Goldfinger as the private pilot/co-conspirator to Auric Goldfinger's evil plot, Honor Blackman's Pussy Galore was first seen training a gun on a very groggy Bond. Throughout the ensuing film, we'd see the villainous Galore turncoat to help 007 in foiling "Operation Grand Slam," thus sealing her turn to the good side. Seeing this legendary Bond woman in action, both in the name of war and peace, is a firm reminder that it's not always easy for James to get his way, especially when the woman he's trying to pick up is armed and very resourceful.
Major Anya "Agent XXX" Amasova, The Spy Who Loved Me
Major Anya Amasova (Barbara Bach) of the KGB is, essentially, the Russian version of James Bond. Avenging the death of a lover that 007 killed in action during The Spy Who Loved Me's opening action sequence, the woman known as Agent XXX is introduced to us on a mission to seduce and conquer in the name of the enemy. Introducing the often used concept of another operative working against Bond, only to join forces with him when the going got tough, Major Amasova would be crucial to foiling the plot of evil shipping magnate Karl Stromberg (Curd Jürgens).
Pam Bouvier, License To Kill
Through deception and deep cover operations, CIA agent Pam Bouvier (Carey Lowell) was onto the evil schemes of drug dealer Franz Sanchez (Robert Davi) before he even incurred the wrath of Timothy Dalton's dangerous and deadly rogue agent version of James Bond. With License To Kill seeing Bond on a mission of pure vengeance after a particularly vicious and personal attack leaves Felix Leiter's (David Hedison) wife dead. If it wasn't for Agent Bouvier's assistance navigating the landscape, as well as some of the tricks she had up her sleeve working like a charm, Bond might have never gotten the vengeance he quit MI6 (again) to pursue.
Wai Lin, Tomorrow Never Dies
Before she became one of Starfleet's finest in Star Trek: Discovery, Michelle Yeoh got to play one of the most memorable and toughest Bond women ever to grace the silver screen: Colonel Wai Lin of the Chinese People's External Security Force. A crucial figure in 1997's Tomorrow Never Dies, Wai Lin was investigating the evil plot of Bond villain Elliot Carver (Jonathan Pryce,) a megalomaniac who planned on starting World War III for ratings and personal gain. In a couple encounters, Col. Lin gave 007 the slip throughout their separate tracks of action, but eventually the two would join forces to take down the media mogul. Not even being handcuffed together could stop Wai Lin from getting the better of James Bond, though eventually she did find herself falling to Commander Bond's charms.
Elektra King, The World Is Not Enough
Perhaps one of the sneakiest villains in the canon of Bond, Sophie Marceau delivered a hell of a twist in 1999's The World is Not Enough as secret baddie Elektra King. With her father killed in the film's pre-credits cold open, Elektra was seen as grieving, fearing the threat of terrorist Renard (Robert Carlyle), who was perceived to be stalking her. But what actually happened was that Elektra, radicalized by Renard during a previous kidnapping, returned home to Sir Robert King, her father, and engineered his death; along with a huge scheme to corner the European oil market. By time she was finished, M was kidnapped and Bond was destined to die in a torture chair. If it wasn't for his frenemy Valentin Zukovsky (Robbie Coltraine) freeing him in the nick of time, our beloved secret agent would have died once and for all at the hands of Ms. King.
Miranda Frost/Giacinta "Jinx" Johnson, Die Another Day
While Die Another Day wasn't exactly a progressive film when it came to James Bond action, it did manage to give us one of the strongest pairings of Bond women on both sides of the coin. With triple agent Miranda Frost (Rosamund Pike), Pierce Brosnan's Bond felt another sting similar to that of Elektra King, in the sense that he was led by his ego and seduced into a corner by someone he wasn't supposed to trust. Meanwhile, Halle Berry's Giacinta "Jinx" Johnson was working her own angle against diamond obsessed Gustav Graves (Toby Stephens,) while also having a bit of fun at bond's expense. Both characters gave 007 a run for his money, and their climactic sword fight was only proof that they didn't need the men around to have a good fight.
Camille Montes, Quantum Of Solace
There's a strong argument to be made that Quantum of Solace's Camille Montes (Olga Kurylenko) is possibly the strongest woman in the Daniel Craig Bond movies to date. A Bolivian intelligence operative who's looking to avenge her slain family, Camille and Bond are introduced as adversaries, as she mistakes him as a part of the schemes of Dominic Greene (Mathieu Amalric). But once she caught up to James' own plans for revenge, Camille became a strong partner throughout the mission to bring down the crime syndicate that was once known as Quantum. Never succumbing to his wiles, Camille Montes is out there somewhere, waiting to be rediscovered when the timing is right.
Eve Moneypenny, Skyfall/Spectre/No Time To Die
Resourcefulness has always been a key quality of the past incarnations of Moneypenny seen in the James Bond saga. But Naomie Harris' new incarnation, given the first name of Eve, is the most spirited version of Moneypenny we've ever seen in series history. And by spirited, I do of course mean to invoke that time she was seen as the field operative who shot 007 through the chest in Skyfall. Though once she returned to administrative life in Spectre, she became a part of a crack support team that helped James research threats in real time, ever proving that she didn't need to pull a trigger to keep the world out of harm's way.
Dr. Madeline Swann, Spectre/No Time To Die
Dr. Madeline Swann (Lea Seydoux) never wanted to be a part of the same extortion and violence her father, SPECTRE operative Mr. White (Jesper Christensen), made his living engaging in. But as we saw in Spectre, the woman who eventually won James Bond's heart was not only quick with her wit, she was also handy with a pistol; a by-product of growing up with a father engaged in criminal activity. Able to stay in step with James Bond's mission to capture her father's former employer, we just might see some of those survival skills on display in No Time To Die, as Dr. Swann will be returning,and has already bested 007 in a most unintentional way: it looks like she's broken his heart, with a potentially deadly secret waiting to be sprung.
M, Goldeneye – Spectre
Of course, there's no way you can make a list about the most forceful women of the James Bond franchise and leave out the most powerful of them all. Joining the franchise in 1995's Goldeneye, and maintaining her position through to 2015's Spectre, Dame Judi Dench's version of M had no qualms about putting her star agent in the most dangerous situations possible. While still somewhat of a maternal figure to Bond, she wasn't afraid to dress him down for his shenanigans in the field, and even had him shot in order to prevent a list of her operatives from being leaked.
There was still a respect between M and Bond though, even after being shot and presumed dead to the world, and Skyfall showcased their relationship at its most tenuous, and ultimately its most tender. Able to hold her own with James and gruff groundskeeper Kincade (Albert Finnney) during the battle at Bond's ancestral home, her death left 007 mourning and even more vengeful than the death of Vesper Lynd (Eva Green).
We're on the eve of 007 history being made again, as No Time To Die is set to be released in theaters on November 20. And if the advanced looks we've gotten are any indication, we're about to see more female characters, like Lashana Lynch's Nomi and Ana de Armas' Paloma, who look like they'll be joining this lineup of strong women that could give James Bond a run for his money. In the meantime, stay tuned to CinemaBlend for all of your 007 news needs, as we'll be providing all the up to date news you could need… for your eyes only.
Your Daily Blend of Entertainment News
Senior Movies Contributor
CinemaBlend's James Bond (expert). Also versed in Large Scale Aggressors, time travel, and Guillermo del Toro. He fights for The User.