Timothy Dalton's Unmade James Bond Sequel, And The Influence It Had On The 007 Franchise After He Left
The original drafts for Bond 17 could have brought some majorly different energy to the franchise.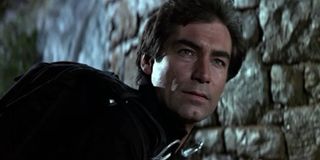 For quite some time, the lore behind Timothy Dalton's exit from the James Bond movies has been centered around one film. As the story goes, an adaptation of the Ian Fleming short story "The Property of a Lady," was mentioned to be the third 007 adventure that would have seen Dalton in the tuxedo. But, as history and some new discoveries have proven, this assumption was actually false. In fact, there was an immediate sequel to License to Kill that could have given Timothy Dalton more of a substantial foothold in the James Bond franchise.
If you're a mega fan of the 007 franchise, then The Lost Adventures of James Bond by Mark Edlitz is going to knock you for a loop. There's a lot of hidden treasure that's come out of the shadows of the James Bond legacy in this particular book, and it's not limited merely to the world of the films. Most prominently among the book's many treasures is several alternate and unmade versions of James Bond movies, including two treatments for a version of Bond 17 that wasn't Goldeneye.
While it never came to fruition, its influence would be felt for years to come in the the films that would follow. Before we dig too deeply into this mystery film, let's run through why Timothy Dalton didn't stick around for longer in the first place.
Why Timothy Dalton Left The James Bond Franchise
We've mentioned this previously during our discussion of the two Dalton films, so we won't spend too much time on the subject. That being said, Timothy Dalton's departure from the James Bond series is important in the respect that in the time he was still contracted to play the part, a couple different concepts were in play. Under the presumption that he would be playing James Bond into the '90s, the first concepts for Bond 17 were to continue Dalton's era as such.
Of course, that would turn out to be false, as The Living Daylights and License To Kill, the 15th and 16th James Bond films respectively, would be the actor's only entries. As Dalton's contract expired during some legal wrangling that put the franchise on hold, the actor would take that opportunity to leave the series. But if history had turned out a little differently, here's what we could have seen in Timothy Dalton's run as James Bond.
The Films That Would Have Been Bond 17
If there was a word that could define the more serious draft of Bond 17 that was written by series producer/writer Michael G. Wilson and Wiseguy writer Alfonse Ruggiero, Jr, it would have to be "robotics." The film would have centered around a series of disasters involving out of control devices wreaking havoc on everything from a Scottish chemical plant to a Chinese atomic facility. Bond would be investigating these goings on alongside Bond woman/ex-CIA agent Connie Webb, and things would eventually give way to a wild twist straight out of a Michael Crichton novel.
The Lost Adventures of James Bond then goes on to describe a second draft of Bond 17 that used the rough bones of that idea to make a more comedic version. An "I'm too old for this" approach was instituted, with Bond doing everything from insulting a bomb disposal robot to participating in a rodeo as a cover for his investigation into a stolen stealth fighter. Connie Webb would also appear in this draft, though she was now given quite a few quips to deliver in reference to James' prowess as an agent and lover.
This second draft would have totally been at home in the Roger Moore era of James Bond capers; or even with fans who loved 1967's spoofed version of Casino Royale. Both concepts would have needed some more work to truly fit into the 007 canon, especially with License to Kill's harder edge at play. It would all be rendered mostly useless by time but Pierce Brosnan would eventually land the lead.
How Timothy Dalton's Unmade Bond 17 Influenced The 007 Franchise
While the 007 franchise was in flux at this point, and totally new writers would be brought in to usher in a new Bond in Goldeneye, Bond 17 did have some ideas that were worth recycling into the series. Tomorrow Never Dies's terrorist supermarket scenario, which remains one of the best James Bond pre-title openings, is an example of one huge idea that would eventually spring forth from these drafts, as the entire plot and villain being developed feel like building blocks towards Elliot Carver and his stealth boat.
Though Goldeneye doesn't go home empty handed, as the pre-credits sequence feels very similar to what's presented in the draft from Alfonse Ruggiero, Jr and Michael G. Wilson. Merely looking at the concepts Bond 17 had in play, you can see how the Pierce Brosnan era of James Bond seems to have benefitted the most from this unrealized Timothy Dalton film. Just as Michael G. Wilson admitted when asked about Danny Boyle's aborted draft for Bond 25, the ideas that work the best in the James Bond world tend to come back around. It just so happens that the dueling drafts of this potential sequel were able to influence several films in the era to come.
To get a better picture of the Timothy Dalton films we never got, as well as a bunch of obscure and unknown projects that make the 007 legacy even more exciting to behold, I highly recommend you check out The Lost Adventures of James Bond by Mark Edlitz. Not only will you get a better context for the projects I've described above, but the book covers two other Dalton follow-ups we didn't even dig into.
In addition to some other surprising points in 007 history that were lost to the sands of time, like the animated series James Bond Jr., there's more what if's from the almost 60 year franchise to discover and dissect. The Lost Adventures of James Bond is a volume that the most die-hard James Bond fans should consider adding to their personal library, and it's currently available for purchase.
Your Daily Blend of Entertainment News
Senior Movies Contributor
CinemaBlend's James Bond (expert). Also versed in Large Scale Aggressors, time travel, and Guillermo del Toro. He fights for The User.