That Time Matt Damon Almost Missed Out On An Oscar-Nominated Role Because Of Studio Interference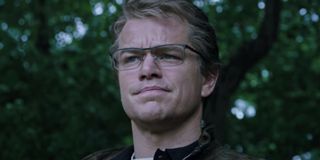 Director Ridley Scott's adaptation of The Martian is one of those random successes that's hard to see playing out in any other method than it did back in 2015. Matt Damon's Mark Watney anchored an ensemble cast with his central character, who was full of wit, scientific knowhow and a creative handle on the English language, swears and all. And yet, if 20th Century Fox had its way, Matt Damon would have missed out on the Oscar-nominated role, because the studio's first choice was Channing Tatum.
It's strange to think about that alternate casting, but it's exactly what would have happened had Matt Damon himself not lobbied for the role. I learned this surprising fact when speaking with author Andy Weir, the man who wrote the novel The Martian was based off of. Celebrating the release of his latest book, Project Hail Mary, I couldn't help but ask about the history of the film adaptation of Weir's self-published success story. When it came to the subject of whether or not there was competition for the role of Mark Watney, Weir told the following story:
There is literally nothing to argue with in that story about how The Martian could have turned out way different. Channing Tatum is a great leading man, to be sure, and he does have a wit about him. And if he'd landed the role of Mark Watney, Tatum may not have made his appearances in both Magic Mike XXL and The Hateful Eight, both of which filmed around the time The Martian was in production. Before we go any further though, let's imagine what a Tatum-enhanced version of The Martian could have looked like.
For sure, Channing Tatum's Mark Watney could have dealt with building shelters, surviving the elements and stitching his own wounds without a hitch. But after almost six years of holding The Martian as a cinematic, and sci-fi, touchstone, it's hard to think of anyone other than Matt Damon in that role. Part of that equation is because if Mr. Tatum was playing Mark Watney, we'd have expected him to survive no matter what; which robs the narrative of all the fun and tension in his quest to survive.
Andy Weir certainly knows it, as he was also really pulling for Matt Damon to play Mark Watney in The Martian. But the largest hypothetical problem with this project was the fact that if Ridley Scott's decision-making process broke the other way, Weir wouldn't have had any say. At that time, The Martian was just a project where Andy Weir was paid for the rights and given no producer credit or the creative input that came with it. That happens to be one of the differences when it comes to Weir's involvement in the upcoming adaptation of Project Hail Mary.
Though the book has just been released to the public this past Tuesday, Andy Weir's latest creative offering has already been set to be adapted by writer Drew Goddard, who also wrote the script that brought The Martian to life. With Phil Lord and Chris Miller set to direct, much like they were set to do on the currently stalled-out adaptation of Weir's Artemis, and Ryan Gosling set to play the lead character of Ryland Grace, there's already a framework in place to bring another sci-fi epic of snark and science to the masses. This time out, Andy Weir has that producer's credit and a say in how things pan out.
It's going to be a while before Project Hail Mary makes it to the big screen, but already it sounds like Andy Weir has confidence that the team involved will get the job done. Which is fantastic, because much like that moment The Martian landed Matt Damon as its lead, this could be the moment that defines another box office smash based on a pretty exciting book. Should you want to check out Project Hail Mary, it's available for purchase now, ready to take you on another epic journey in the depths of space.
Your Daily Blend of Entertainment News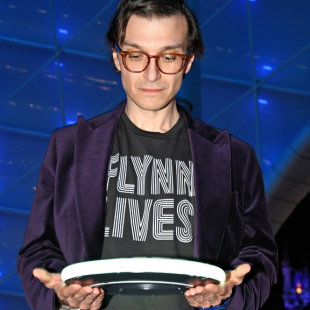 Senior Movies Contributor
CinemaBlend's James Bond (expert). Also versed in Large Scale Aggressors, time travel, and Guillermo del Toro. He fights for The User.