Of Course The Martian Fans Used Math And Science To Solve One Of The Film's Great Mysteries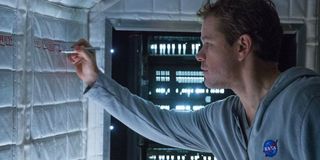 Leave it to The Martian fans to use science and math to figure out one of the book's (and the movie's) most tantalizing mysteries. Obviously, Andy Weir's story takes place in the future, though the novel, and Sir Ridley Scott's movie, never specified in which year the narrative takes place. Well, that was unacceptable for a select few who adore the tale of Mark Watney, and they finally figured out the exact date in which The Martian takes place.
Reddit user Lee_Ars started heating up the conversation three months ago, pointing out that including Thanksgiving in the story – as a catalyst for Watney's eventual potato farm – was a significant clue. As Ars writes, he interviewed Weir, who explained that once readers could lock in on a year where the transfer orbits to Mars worked out in such a way that it allowed the crew of the ARES III to actually celebrate Thanksgiving on the surface of the Red Planet, then the entire story of The Martian could be backtracked from that starting point until you discovered the actual date.
As it turns out, the answer has been out there, waiting for fans to dig it up. On his own Facebook page, Andy Weir posted (in January) that a Martian fan named Kenny Ray was able to "back-calculate the actual dates from information in the book," and received a signed copy of The Martian for his deductive skills. Weir writes:
Obviously, The Martian had to take place in some futuristic frame, as NASA hasn't yet figured out how to send manned missions to Mars (and after seeing this movie, they might want to scrap any programs that will try to make such missions a reality). But Weir, Ridley Scott and screenwriter Drew Goddard seemed to go out of their way to avoid including any references in the film that would date the material. In fact, the most successful running joke in The Martian is the enduring power of disco music… an audio gag that would be funny in any decade.
Audiences have responded in kind to Sir Ridley Scott's The Martian, opening the sci-fi thriller to a whopping $55 million and setting the film up for a possible run through the end-of-year awards season. Did you see The Martian yet? Now that you know when the story takes place, see it again and look for clues that might have divulged this 2035 date.
Managing Director at CinemaBlend. ReelBlend cohost. A movie junkie who's Infatuated with comic-book films. Helped get the Snyder Cut released, then wrote a book about it.