A Quiet Place Part II Reviews Have Landed, Here's What Critics Are Saying About The John Krasinski Horror Movie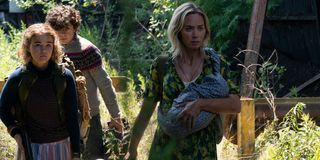 The sequel to the 2018 smash hit A Quiet Place is almost here. After many delays, A Quiet Place Part II will finally be released to audiences with John Krasinski directing once more. Emily Blunt, Millicent Simmonds, and Noah Jupe return to their roles, and rounding out the cast are Cillian Murphy and Djimon Hounsou.
Following the deadly events at home, the Abbott family (Blunt, Simmonds, Jupe) must now face the terrors of the outside world as they continue their fight for survival in silence. Forced to venture into the unknown, they quickly realize that the creatures that hunt by sound are not the only threats that lurk beyond the sand path. A Quiet Place Part II will release only in theaters on May 28, and critics have started sharing their reviews.
Our very own Eric Eisenberg rated A Quiet Place: Part II a 3 out of 5 stars. He was disappointed that the sequel didn't expand enough upon the original story's ideas, like providing more information on the aliens. He did praise the terrific performances of Simmonds and Blunt, and enjoyed many of the scary sequences. Eisenberg said:
Kate Erbland of IndieWire was more impressed with the horror flick. She particularly enjoyed Krasinski's heart-pounding set pieces, pegging those as the most exciting part of A Quiet Place Part II. She also commended the immensely real drama and heart that Krasinski filled this movie with, saying:
Matt Donato of What To Watch actually thought that the scare tactics in this sequel are less effective than in A Quiet Place, arguing that they're overused. He did, however, give high praise to Simmonds, applauding her ability to own this movie and dive deeper into her character. Donato said:
The heart-pounding horror is touched on quite frequently in critics' reviews. Angie Han of Mashable argues that the terror of A Quiet Place Part II doesn't exactly rival the shock of the first movie, though she still thinks the sequel provides enough nail-biting monster action to satisfy fans. Han also highly praised Simmonds "badassery," like we've seen before. She said:
Hoai-Tran Bui of Slash Film also complemented Simmond's performance, but she criticized the film for falling too deep into the post-apocalyptic thriller tropes, like the "reluctant father figure and spunky young girl" team up of Simmonds' Regan and Murphy's Emmett. Bui said of A Quiet Place Part II:
Critics seem to at least enjoy the action of A Quiet Place Part II, though it might not be as shocking as its predecessor. Will this horror film make audiences jump out of their seats, or leave them sitting there with their popcorn still intact in a bowl? We'll soon see when it releases in theaters only on May 28.
In the meantime, check out the rest of the movies releasing this summer!
Your Daily Blend of Entertainment News