Fantastic Beasts 3's Mads Mikkelsen Shares Honest Thoughts On Leonardo DiCaprio's Another Round Remake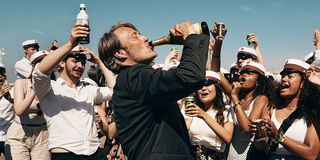 Mads Mikkelsen, a man who is constantly cast as the villain, has been a part of some major franchises and continues to add to that list now that he is replacing Johnny Depp in Fantastic Beasts 3 and has been cast in Indiana Jones 5. Mikkelsen is also fresh off the success of his film Another Round, which was nominated for multiple awards and won the Academy Award for Best International Feature Film. Of course, the success of a foreign movie means American studios could try to remake it and, shortly after the Oscars, it was reported that a Leonardo DiCaprio-led Another Round remake is in the works. Now, Mikkelsen has shared some thoughts on the upcoming film.
It seems there's always a push to remake successful international films for American audiences and, when this happens, the results can usually vary by movie. When sharing his thoughts on the Another Round remake with Entertainment Weekly, Mads Mikkelsen was diplomatic, saying:
Mads Mikkelsen recognizes the tricky nature of making a remake, but he definitely understands why they're made. Mikkelsen also says Another Round was not a huge movie, despite the fact that it was a major player during this past awards season. Still, he does think a lot of Americans have seen Another Round, so that could possibly bode well for the Leonardo DiCaprio-led remake.
Mads Mikkelsen goes on to talk about the cultural differences between America and Denmark when it comes to alcohol. With this, he thinks there's a possibility the American remake will approach the film's subject matter differently from the original. Ultimately, Mikkelsen believes that if the remake embraces the theme of enjoying life and self-discovery, it might turn out well.
Another Round is the story of four high school teachers in Denmark (led by Mads Mikkelsen's Martin), who decide to consume gradually increasing amounts of alcohol on a daily basis to see how it affects their social and professional lives. The film is a funny and emotional look at middle age and how life can pass you by. It also drives home the point that it's not too late to enjoy your life and recapture the things that make you truly happy. If the American remake can capture the essence of the original without the standard moralizing of American films involving vices, it might measure up to the original.
Another Round was a strong showcase of Mads Mikkelsen's talents and, hopefully, fans will get a chance to see the actor take on similar projects. And while Leonardo DiCaprio is certainly a capable actor, he'll have a tough act to follow when he headlines the remake.
Your Daily Blend of Entertainment News
Movie and TV obsessive. A good Heist movie is the way to my heart. Enjoyer of everything from Marvel Movies to Rom-coms.