Mads Mikkelsen And 7 Other Actors Who Almost Always Play The Villain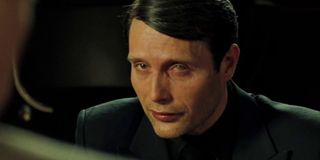 (Image credit: (MGM))
We love to hate movie villains and as it turns out there's a number of actors who do not mind playing the bad guy either... even if it's again and again. There's a number of actors that come to mind who we go into a movie thinking they will be revealing their evil plot or betraying another character's trust. Most recently this happened with the casting of Mads Mikkelsen in the Indiana Jones franchise. Although we have no idea who he'll play, fans jumped right to the question as whether he'd be the film's mysterious antagonist.
You know how we always expect Tom Hanks to play an inspiring or lovable character? This list is the opposite of that. Let's talk about the actors who are almost always cast as the villain:
Mads Mikkelsen
Since Mads Mikkelsen was cast in Indiana Jones 5 last week, I assure you, most of our brains lit up with the assumption that the actor is about to become the next adversary to Harrison Ford's Dr. Henry Jones Jr. Now, that may not be the case. Perhaps Mikkelsen is a new friendly archeologist in the game eager to assist the legendary hero on his next adventure. After all, he was a good guy in Rogue One. Still, as Mikkelsen explained to Esquire, he loves playing these juicy, antagonistic roles and has no problem with taking one after another:
Mads Mikkelsen made a lasting impression as a villain for Casino Royale, and has gone on to star in Hannibal, Doctor Strange and Chaos Walking. He'll soon star in Fantastic Beasts 3 as Gellert Grindelwald. Now that we've heard the current king of movie villainy, let's get into the other actors that we hesitate to trust in movies:
Javier Bardem
Not unlike Mads Mikkelsen, Spanish actor Javier Bardem has had more than his share of villainous roles, and he's also earned the status of Bond villain as Skyfall's Silva. He most famously earned the role of main Hollywood antagonist for playing Anton Chigurh in 2007's No Country For Old Men. He won an Oscar for the role and has often gone for more malicious characters, such as Captain Salazar in Pirates of the Caribbean: Dead Men Tell No Tales. That said, he will play a key ally to Dune's protagonist Paul Atreides as Stilgar in the upcoming Denis Villenueve blockbuster.
Willem Dafoe
How incredible is it that Willem Dafoe's actual given name sounds like "da foe," or "the villain," and that's summed up how many of us perceive his career. Sometimes it's all in the name. Dafoe was unforgettably the Green Goblin to Tobey Maguire's Spider-Man in the very first big screen take on the superhero. He was also a pesky assassin in The Grand Budapest Hotel and an angry lighthouse keeper with Robert Pattinson in The Lighthouse. Although the actor is a well-known movie villain, he's an eclectic character actor who has explored a lot of different kinds of characters throughout the years.
Hugo Weaving
Another frequenter of the dark side is Hugo Weaving, who has played the masked V in V For Vendetta, Agent Smith in The Matrix, Megatron in the Transformers and Red Skull in the first Captain America movie. The English actor has shown a subtle terror to his villainy, which his fellow actors on this list don't always show. When you feel a cold chill around a character without the big theatrics involved, that's a seriously sinister role. Weaving has pulled off more than a few of those.
Jared Leto
He's played The Joker, DC's most infamous villain, in Suicide Squad and Zack Snyder's Justice League, but Jared Leto's bad guy roles do not stop there. This is a funny one because Leto got his start as teen heartthrob Jordan Catalano on My So-Called Life. But then he was a home invader in Panic Room, John Lennon's killer Mark David Chapman in Chapter 27, starred as Blade Runner 2049's villain and appeared The Little Things to once again play a criminal. He'll flip the script next year as Morbius, who seems to be a misunderstood vampire rather than full-on Dracula.
Vincent D'Onofrio
One does wonder if actors such as Vincent D'Onofrio are actively looking and auditioning for villain roles or seeking them out. The 61-year-old has also played a lot of deliciously bad guys on the big screen and television. More recently, he's found acclaim from Marvel fans for his version of Kingpin in the Netflix series Daredevil. Aside from that, D'Onofrio was totally the gross bug alien in Men in Black and the antagonist in 2015's Jurassic World. Law & Order fans may feel off set from this thanks to his role as Detective Robert Goren in Criminal Intent.
Edward Norton
Then there's Edward Norton, who fooled us once with his character's backstabbing in The Italian Job and went there by playing a neo-Nazi in American History X. In between some smarmy roles over the years, he did switch things up by playing Bruce Banner, a.k.a. The Hulk, before he was replaced by nice-guy actor Mark Ruffalo. Norton has the ability to play the sneaky villain or the unassuming baddie, and props to him for playing at his strengths over the years. But sometimes when he goes for earnest roles, I question it for a moment. He keeps us guessing.
Christoph Waltz
Our last stop on the villain train is Mr. Christoph Waltz, who seems to be a lovely man in real life, but can't stop and won't stop playing the most despicable humans Hollywood can think of. The Austrian-German actor can honestly thank Quentin Tarantino for this perception thanks to his memorable roles in Inglourious Basterds and Django Unchained. The Oscar-winner has also been the Bond villain Blofeld in Spectre, a cruel circus handler in Water for Elephants and Big Eyes' Walter Keane. You know, the guy who stole credit for his wife's work.
Lots of iconic actors here who love to play bad and do it very well. It's really a compliment to their ability to remain in our heads as these characters more than anything. Which one is your favorite to see as the villain? Vote in our poll below!
This poll is no longer available.
YA genre tribute. Horror May Queen. Word webslinger. All her writing should be read in Sarah Connor's Terminator 2 voice over.
Your Daily Blend of Entertainment News
Thank you for signing up to CinemaBlend. You will receive a verification email shortly.
There was a problem. Please refresh the page and try again.