John Krasinski Reveals The Inadvertent (But Cool) Way Steven Spielberg Influenced A Quiet Place II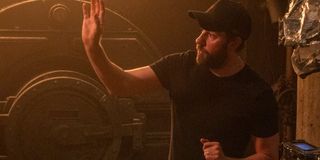 A Quiet Place Part II has finally arrived in theaters and is a hit with fans and critics alike. Director John Krasinski has followed up his 2018 film with a sequel that lives up and expands beyond the original. The film is the first major theater-only release since Tenet and has performed well at the box office. Krasinski, who was reluctant to the idea of making a sequel, isn't shy about his influences and other filmmakers that inspire him, and he's revealed the inadvertent (but cool) way Steven Speilberg Influenced A Quiet Place II.
John Krasinski loves films and has an appreciation for the movies that he grew up on. He's acknowledged how the iconic director Steven Speilberg has influenced A Quiet Place Part II. While speaking to the ReelBlend podcast, John Krasinski remarked on how Steven Speilberg surprisingly impacted his highly anticipated sequel, saying:
John Krasinski explains how the nostalgic feeling Steven Speilberg invokes in his early work (the movies Krasinski grew up on) influenced A Quiet Place II. Krasinski says he wanted audiences to get that same feeling in the first frame of his new film that someone would've gotten in 1986. He wanted to give viewers a nostalgic feeling, something memorable straight out of the gate, and he did this by shooting on film.
John Krasinski also distinguishes shooting on film from filming digitally and explains how the former hits differently for audiences. Shooting with actual film to evoke an almost classic feel was something Krasinski clearly put a lot of thought into. The filmmaker believes it really benefits the story and film as a whole, and it's nice that he has his love of Steven Speilberg to thank for that. Here are Krasinski's full thoughts on A Quiet Place II on the ReelBlend podcast:
A Quiet Place II is a victory for John Krasinski, as even fellow celebrity Ryan Reynolds have fallen in love with it. The film is a perfect example of why audiences love the horror genre. As more theaters are opening up, more people are getting the chance to go out and experience films on the big screen, and A Quiet Place II is the perfect first theater outing after a long period away.
John Krasinski, who is perfect to play several Marvel characters, just continues to make waves in the film industry with A Quiet Place Part II. While the film has been a long time coming, it's great that it's not only arrived, but that it's arrived at a time when movie theaters need it the most.
Your Daily Blend of Entertainment News
Movie and TV obsessive. A good Heist movie is the way to my heart. Enjoyer of everything from Marvel Movies to Rom-coms.
Your Daily Blend of Entertainment News
Thank you for signing up to CinemaBlend. You will receive a verification email shortly.
There was a problem. Please refresh the page and try again.