The Suicide Squad Merch Offers New Weapon For John Cena's Peacemaker (And James Gunn Approves)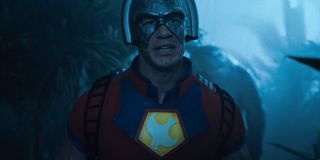 James Gunn's The Suicide Squad is inching closer and closer to its August release date, and the director is hyping up fans in anticipation for it. The Suicide Squad will be rated R and is promising some bloody action from its star-studded cast. In the midst of hyping up the movie, Gunn has revealed how the cast of the film found out about their on-screen deaths, and the director has even surprised Joel Kinnaman with the completed movie. Now, new merchandise for the movie has shown off a new weapon for John Cena's Peacemaker, and Gunn definitely approves.
John Cena's Peacemaker has had some new weaponry revealed by some official merch for The Suicide Squad. The action figures show off some members of the new Task Force X, most notably the always incredible King Shark, Margot Robbie's Harley Quinn, and of course, Cena's Peacemaker, who is holding a sword. James Gunn has since tweeted his reaction to the action figures from McFarlane Toys:
Given what we've seen so far, it's surprising that John Cena's Peacemaker is holding a sword but, hopefully, this means we get to see him wield it in the actual film. We shouldn't put it past James Gunn to give Cena such a weapon and, since it's official merch, it means it's highly likely. So far, of The Suicide Squad's roster, Cena's character might have the hottest merchandise on the market, seeing as there's even already a Christmas ornament for Peacemaker.
John Cena absolutely takes advantage of his role as Peacemaker, and James Gunn seems to really enjoy it. From going viral in his Peacemaker costume to doing random interviews while in full costume, the wrestler-turned-actor is having fun ahead of the release of The Suicide Squad, but it hasn't been without its challenges. Still, Cena and Gunn's enthusiasm and excitement for their upcoming DC film just adds to the hype it already has.
Aside from his promotion of The Suicide Squad, James Gunn has recently given his own take on the ongoing saga regarding the future of Dave Bautista's Drax the Destroyer in the MCU. Bautista and Gunn have an excellent working relationship, and Bautista has recalled the "heartbreaking" conversation he had with Gunn, in which he told him he'd chosen Zack Snyder's Army of the Dead over The Suicide Squad. Guardians of the Galaxy Vol. 3 might be the last time we see Drax in the Marvel Cinematic Universe, but Gunn and Bautista will surely work together again.
James Gunn's The Suicide Squad is going to introduce several new members and is looking to improve and reinvent the first iteration of the team from the 2016 film. With a super talented cast, including Margot Robbie returning as Harley Quinn, Idris Elba as Bloodsport, and John Cena as Peacemaker, The Suicide Squad is shaping up to be a DC fan's dream come true.
The Suicide Squad lands in theaters and HBO Max on August 6.
Movie and TV obsessive. A good Heist movie is the way to my heart. Enjoyer of everything from Marvel Movies to Rom-coms.
Your Daily Blend of Entertainment News
Thank you for signing up to CinemaBlend. You will receive a verification email shortly.
There was a problem. Please refresh the page and try again.