5 Reasons Why The Little Mermaid's Ursula Should Get The Next Disney Villain Origin Movie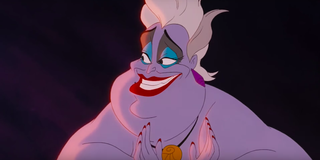 (Image credit: (Disney))
CinemaBlend participates in affiliate programs with various companies. We may earn a commission when you click on or make purchases via links.
Disney's live action division has been hard at work in recent years crafting grander visions for the animated films of our childhoods, between straight remakes of its beloved classics like for The Lion King and The Beauty and the Beast, to more unique stories like Alice in Wonderland and the recently-released Cruella. Now that the studio has checked off reimagining the 101 Dalmatians villain, a Little Mermaid prequel for Ursula should come next.
Obviously it would be called Poor Unfortunate Souls and follow the sea witch in her younger years before her contract with Ariel popped up in her magic ball. Here's why Ursula is my top pick for the next Disney villain backstory:
Maleficent And Cruella Have Started A Strong Disney Trend
Hi, certified former Disney kid here to say while the studio's live-action movies are always fun, my favorite entries into the recent are these villain origins. Between 2014's Maleficent and 2021's Cruella, both films have managed to pay tribute to the characters well known in their respective movies and also feel completely new from the other big-budget remakes being made.
Maleficent, for example, changed our perspective on the Sleeping Beauty villain in a way that improved upon the 1959 original, where you could go back to the animated version and appreciate it more (or just on its own) and vice versa. Cruella showed how twisted and visionary Disney is willing to go with its productions. The Emma Stone-led story almost didn't feel like a movie from the House of Mouse at times because it was taking risks and deferring from the formula in cool ways. Being surprised makes for a great movie experience.
Ursula Already Has An Interesting Origin To Be Explored
This spiced-up recipe that Disney started with Maleficent and Cruella would be inspired for finally telling the story of Ursula, the main villain of The Little Mermaid. Despite her deviousness, what really sticks out to me about Ursula is how incredibly fun she is. Yet, why is she the way that she is? I'm actually interested in knowing! When it came to Cruella de Vil, I could not give two spots as to why she wanted to skin puppies, and the movie had to work to make me care about its story.
Ursula apparently once lived in the same royal palace that Ariel and King Triton hail from, but it sounds like when it became known that she was a sea witch, she was blacklisted somehow and banished into the depths of the sea. It would be really interesting to learn about how magic is handled in the kingdom of Atlantica and what spells actually got her banished. Additionally, her motivations for granting these wishes to people aren't completely known and could be told in really interesting ways. It also definitely seems like Ursula and Triton have a past relationship to be explored.
An Ursula Movie Wouldn't Need Ariel To Be Great
Prequels have been super popular recently, but something about them that always bothers me is the dumb ways they sometimes need to tie to the original or may feel empty without the previous story's other central characters. For Ursula's origin story, while it could certainly involve someone like King Triton in his younger years too, the movie has the potential to be interesting all on its own without a single cameo by Miss Ariel.
I would watch an entire Ursula movie without hearing a mention of The Little Mermaid because there's so much to cover, from her upbringing as a sea witch, life in Atlantica, banishment and how she rises to become a dealer of wishes. And because she is a sea witch, Ursula could have her own love story or adventure on land and around the seas.
Ursula Is A Gay Icon
Another reason why Ursula should be explored further is because of how important she is in pop culture. Move over Cruella, Ursula is much more important to the history of Disney than you'll ever be. Ursula was inspired by a legendary drag queen of the time known as Divine. The character is one of the most obvious draws from the LGBTQ+ community by Disney, and this could perhaps be expanded upon in some way in a prequel movie.
Ursula's story already sounds like it will be one about the "other" and being banished from one's world because of being different. It could even be a great storyline for Disney to introduce its first gay lead. Even if it doesn't, an Ursula origin movie should pay tribute to its drag roots somehow, and bringing new dimension to the queer-coded villain outside of the black and white would be a step in the right direction.
An Original Disney Undersea Epic Would Be… Epic
When we see a Disney live-action film, we know one thing for sure: the scope is going to be fabulous. Disney never skimps on production value with these big remakes and re-imaginings. Even the ones that are not good are always beautiful. When it comes to an Ursula movie, it would be a massive and very intriguing undertaking to make an undersea epic. We know it's possible now too because James Wan did it with Aquaman.
I don't know about you, but to see Atlantica in full live action is a childhood dream come true. And yes, that might already be in the cards with the upcoming live-action Little Mermaid anyway. But I bet it won't want to be the last time we see the world being showcased on the big screen. To catch you up, Poor Unfortunate Souls could have it all, and even if it doesn't the setting might make it worth it on its own.
Did I convince you? Feel free to check out The Little Mermaid, and the other Disney prequels again, on Disney+ to imagine the possibilities. You can sign up for the streaming service using this link and vote in the poll below.
This poll is no longer available.
Your Daily Blend of Entertainment News
YA genre tribute. Horror May Queen. Word webslinger. All her writing should be read in Sarah Connor's Terminator 2 voice over.