F9's Sung Kang Reflects On Working With Gal Gadot On The Fast And Furious Franchise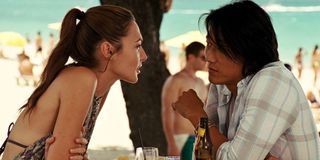 F9 is almost here, and it's already pushed the Fast franchise past a major blockbuster milestone. The film has been screened recently, and critics have a lot to say about the action movie franchise's ninth movie. The Fast series has always been about family, and F9 will see the return of a family member in the form of Sung Kang's fan-favorite character, Han Lue. While speaking about his return, Kang recently reflected on working with Gal Gadot in the long-running, big-screen franchise.
Before she was Diana Prince, Gal Gadot was a part of the "familia" in the Fast and Furious movies making her debut as Gisele Yashar in the fourth movie of the franchise. Now, Gadot is a certified mega star helming the Wonder Woman franchise and being an integral part of Justice League. Sung Kang shared some sweet thoughts on working with Gadot, telling Entertainment Weekly:
Sung Kang says people always ask him about what it was like to kiss Wonder Woman, and the actor acknowledges that Gal Gadot is stunningly beautiful, and gets why people are fascinated with the question. However, he also says the actress was just cool to hang out with and was truly one of the crew. Kang's Han and Gadot's Gisele became an item after Fast Five, so their characters have been linked ever since. Sung Kang goes on to talk about their pairing, saying:
Sung Kang says he and Gal Gadot were able to form a genuine friendship, and they were able to carry over to the screen seamlessly. Being paired off meant they spent a lot of time hanging out and talking about life, and it definitely paid off for their characters. Gadot's Gisele was killed off but, since Han is now returning from his supposed death in Tokyo Drift, anything is possible. So there is a faint possibility we could get to see Gal Gadot with the Fast family again before the saga reaches the end of the road.
Fans can't wait to see Han back behind the wheel, and neither can Sung Kang's Tokyo Drift co-star Lucas Black, who will also make his return to the series. But even though the "Justice for Han" movement was successful, Kang still has some thoughts about the redemption that was given to his character's would-be killer.
F9 will surely give long-time fans everything they expect from the series, and Han's return should definitely be one of the highlights. We'll see how his return is explained when the film hits theaters on June 25 and, from there, we'll speculate on the chances of Giselle popping back up.
Your Daily Blend of Entertainment News
Movie and TV obsessive. A good Heist movie is the way to my heart. Enjoyer of everything from Marvel Movies to Rom-coms.