Taylor Swift Reveals How Ryan Reynolds And Blake Lively's Daughter Impacted Renegade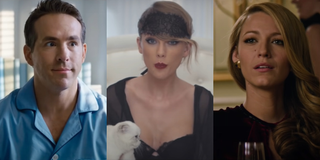 (Image credit: 20th Century Studios / Taylor Swift YouTube / Lionsgate)
While the rest of us focused on rewatching all eight seasons of Game of Thrones during this pandemic season (OK, maybe just me), Grammy winner Taylor Swift was busy making smash hit songs. And she can't seem to stop. Following up on her wildly successful folklore album and its sister album Evermore, the singer-songwriter has collaborated with the same creative team for a new single called "Renegade." Per Swift, this includes a little help from Ryan Reynolds and Blake Lively's daughter, again.
On "Renegade," Taylor Swift teamed up once more with The National's Aaron Dessner and Bon Iver's Justin Vernon for their joint band project, Big Red Machine. The three musicians had worked together on folklore, and you can clearly hear the influence in the new track. Moreover, Swift used Ryan Reynolds and Blake Lively's daughter, 6-year-old James Reynolds, for the artwork. In the reveal on Instagram, it looks like a collage of roses, water, and moody lyrics, followed by a photo of TSwift apparently taken by the youngster. Check it out below:
This wouldn't be the first time that Taylor Swift has used Ryan Reynolds and Blake Lively's progeny for her collaborations. Along with the "Renegade" photo, Swift had utilized her best friends' three kids as inspiration for lyrics on folklore. The song "betty" is, in fact, named after Reynolds and Lively's youngest daughter, with references to their other kids' names (James and Inez) on the same song. Swift would go on to thank Reynolds, Lively and all their kids in her Grammy acceptance speech. Lively clearly appreciated the name drops.
There was a lot of speculation at the time of folklore's release last year about the characters that Taylor Swift was referring to, and who exactly was the songwriter named as William Bowery. Swift shared more on her documentary concert film Folklore: The Long Pond Studio Sessions about Bowery being her boyfriend, actor Joe Alwyn. In other news, "betty" might have been named after Ryan Reynolds and Blake Lively's daughter, but it wasn't exactly about her (or what we all thought) emotionally speaking. The National's Aaron Dessner, who worked on folklore and now the "Renegade" single with Swift, had also talked about the interconnected storylines between the hit album songs like "betty" and "cardigan."
The influence of folklore extends deep into the new song "Renegade." Beyond James Reynolds' services, the single parallels Taylor Swift's Grammy-winning album in both the sound and the lyrics. There is an underlying somber tone that clashes with an upbeat drum tempo. Swift, true to her themes, sings about timing, baggage and needing/wanting somebody that maybe isn't the best or at their best. Listen to the first clip of the song with visuals accompanied by Swift gushing about her creative team again:
Taylor Swift likes keeping us on our toes, whether it's new music or musicals about cats. Not to mention the bevy of easter eggs at the heart of her creative endeavors. Ryan Reynolds and Blake Lively's kids are all still very young, so I guess we should expect more hints about them for years to come.
Freelance writer. Favs: film history, reality TV, astronomy, French fries.
Your Daily Blend of Entertainment News
Thank you for signing up to CinemaBlend. You will receive a verification email shortly.
There was a problem. Please refresh the page and try again.