It May Not Be Disneyland Itself, But (World's Greatest) Dad Built A Star Tours Ride For His Kids In The Garage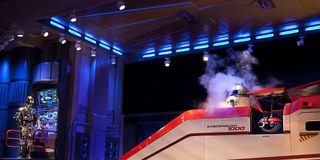 For many there would be no better place to spend their birthday than the happiest place on earth. Unfortunately, since Disneyland Resort was almost entirely closed for over a year, we all had at least one birthday where visiting the parks simply wasn't an option. Luckily some kids have the world's coolest dad, who was able to bring Disneyland to them, by constructing a nearly perfectly functional Star Tours attraction inside their house in Southern California.
Mark Eaton actually built two Disneyland attractions for his daughter Indy's 8th birthday. A Mad Tea Party spinning teacup, built out of two by fours and constructed on what is essentially a massive lazy susan, was one attraction-- and the Star Tours flight simulator was the other. It's an impressive construction to say the least, but the best thing about it may be that it's designed to replicate the original version of the Star Tours attraction, which is no longer in operation. Check it out.
The whole thing is pretty impressive. The exterior design of the ride vehicle is excellent, it looks just like the way the starspeeder is supposed to look. It even uses a small R3X droid, probably purchased at Star Wars: Galaxy's Edge, to play the part of the animatronic pilot for the original ride. Considering that the current version of Star Tours has been in operation for a decade, the now 8-year-old girl has obviously never had a chance to ride it, so this construction is pretty cool if only for that reason.
The simulator doesn't have quite the range of motion of the real thing, but that's to be expected. And it's sort of amazing just how well the whole thing works; the new attractions will fit in nicely in the family's home. According to the OC Register, they already have a patio done in the style of the Enchanted Tiki Room and the Swiss Family Robinson treehouse and the dining room has a Tomorrowland theme. Honestly a motion simulator attraction was the only thing this house was really missing.
Needless to say, young Indy clearly had the coolest birthday ever and the bar has been raised for children's birthdays everywhere. I can't let my daughter see this or she's going to want me to build a roller coaster in the back yard and I wouldn't even know where to start with that.
Of course, now we can all visit Disneyland again and experience the actual Star Tours, and there's nothing quite like it. Still, I wonder if the house is available to book other birthday parties? Mine is coming up, and I'd love to ride the original Star Tours one last time.
CinemaBlend's resident theme park junkie and amateur Disney historian. Armchair Imagineer. Epcot Stan. Future Club 33 Member.
Your Daily Blend of Entertainment News
Thank you for signing up to CinemaBlend. You will receive a verification email shortly.
There was a problem. Please refresh the page and try again.