Disneyland Previewing New Jungle Cruise Ride After Removal Of Insensitive Scenes, Here's What's Changed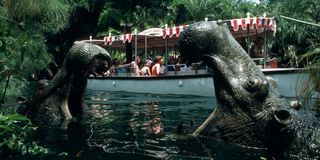 In more ways than one, 2021 is aiming to be a big year for Disney's Jungle Cruise. Not only is the new film based on the theme park attraction starring Dwayne Johnson and Emily Blunt, but the ride itself has undergone enhancements to remove insensitive scenes – and we're getting our first real idea of what it will look like when it reopens.
After shuttering the gates for months in the wake of the COVID-19 pandemic, Disney's theme parks began to reopen this spring. When it did, some attractions had been updated aimed at increasing inclusivity throughout the park. However, Jungle Cruise – one of Disneyland's most popular rides since it opened in 1955 – stayed closed even after fans began to return to the Happiest Place On Earth. This is because the park's Imagineers have been hard at work updating the attraction so that it no longer contains negative depictions of Indigenous people, according to Insider.
Disneyland representatives assured fans the ride will retain the essence that fans know and love, accourding to the official D23 Fan Club. As we approach the day the ride will officially reopen, we're learning more about what fans can expect to see. One of the most significant changes, according to Insider, is that the skipper that serves as the narrator and tour guide on the attraction will be played by a live Disney cast member.
Many of the animatronics placed throughout Jungle Cruise have also been updated in the hopes of reflecting a diverse group of characters. To replace scenes in which Indigineous people are positioned as tourist attractions, the Imagineers have expanded the ride's backstory and added new scenes that feature a variety of explorers from around the world.
The goal of these updates, via a press release from the D23 Fan Club, is to offer a Jungle Cruise experience that includes "new adventures that stay true to the experience we know and love, while adding more humor, more wildlife, and an interconnected story." These efforts creative team behind the changes have been working diligently to have it ready so it can reopen in tandem with the premiere of the Jungle Cruise movie.
The film was originally slated to hit theaters in 2020, but like so many others it was delayed due to COVID-19. Now, it's coming to Disney+ and theaters on July 30. Even though the Disneyland ride doesn't appear to have been updated to follow Jungle Cruise's story, it's fortuitous that it will be ready in time for the movie premiere. It seems likely that it could see increased popularity in the coming months once fans have seen the movie.
Disneyland's visitors will be able to see all the new changes to Jungle Cruise when the ride reopens on July 16.
Your Daily Blend of Entertainment News
Thank you for signing up to CinemaBlend. You will receive a verification email shortly.
There was a problem. Please refresh the page and try again.