Netflix's Gunpowder Milkshake Reviews Are Here, Check Out What Critics Are Saying About The Karen Gillan Action Movie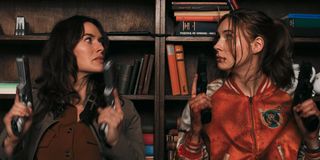 Karen Gillan's next action movie is here! She stars in Gunpowder Milkshake as Sam, who has followed in her mother's footsteps and grown into a fierce hit-woman. When a high-risk job goes wrong, Sam must choose between serving The Firm, the ruthless crime syndicate she works for, and protecting the life of an innocent 8-year-old girl, Emily (Chloe Coleman). With a target on her back, Sam has only one chance to survive: Reunite with her mother (played by Lena Headey) and her lethal associates, The Librarians (played by Michelle Yeoh, Angela Bassett, and Carla Gugino). These three generations of women must now learn to trust each other, stand up to The Firm and their army of henchmen, and raise hell against those who could take everything from them.
Gunpowder Milkshake was directed by Navot Papushado and will be released on Netflix tomorrow, July 14. Critics have started sharing their reviews of the action film, so let's take a look.
Our very own Eric Eisenberg was not super impressed with the movie, rating it 2 out of 5 stars. He thought there was a lack of any kind of substance in the film, and that it relied too heavily on style. Eisenberg also argued that though the action flick does allow Gillan to demonstrate some serious ass-kicking skills, which is enjoyable to watch, it doesn't provide any emotional investment or inspired characterization for her or the other characters with its lazy writing. Overall, he noted:
Kate Erbland of IndieWire had a few more positive things to say about Gunpowder Milkshake than Eisenberg. She enjoyed its "winking" sense of humor as it put a spin on other action franchises, like John Wick. Though she admitted that the plot left something to be desired and was a little confusing at times, Erbland thought the action movie was fun overall, saying:
John Defore of The Hollywood Reporter was relatively disappointed with the movie. He thought it tried too hard to mimic other action franchises like John Wick and Kill Bill, and argued that the writing wasn't at all compelling, and under-serves a lot of characters. Though he enjoyed some action pieces, he noted that most fight scenes ended up looking lifeless. He said:
Caroline Siede froom AV Club had a somewhat middling opinion of Gunpowder Milkshake. While she applauded Gillan's performance and the impressive female ensemble, she also noted some criticisms. She thought the film was frustratingly inconsistent with its logic and tone, while also getting too bogged down in thematic elements that disrupt the pace of the plot. But Siede enjoyed some aspects of the film, calling it "fun" overall, and said:
Amelia Emberwing of What To Watch also pointed out the similarities between Gunpowder Milkshake and John Wick, but argued that the Gillan-led action flick still stands out with its own originality. While she noted that the first part of the film is a little too exposition-heavy and drags the pace along, she enjoyed it overall. She commended the performances of the ensemble, the stylized and bright filmmaking, and the action pieces, summarizing the movie by saying:
Well, that was a pretty mixed bag of reviews. Some critics really didn't like Gunpowder Milkshake, and some enjoyed it well enough. You'll be able to see for yourself when the movie releases on Netflix tomorrow, July 14.
In the meantime, check out what else is ahead for Karen Gillan.
Your Daily Blend of Entertainment News
Thank you for signing up to CinemaBlend. You will receive a verification email shortly.
There was a problem. Please refresh the page and try again.