Black Widow Actor Claims To Play Mutant Character, So Bring On The X-Men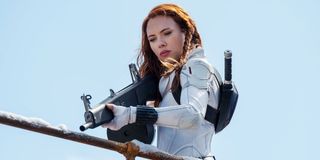 We had to wait much longer for it than expected, but Black Widow is finally here. Set between the events of Captain America: Civil War and Avengers: Infinity War, Natasha Romanoff's solo feature adapted some notable Marvel Comics characters for the Marvel Cinematic Universe, including Yelena Belova, Red Guardian and Taskmaster. But apparently the first Phase 4 movie also had a mutant hiding in plain sight, as actor Olivier Richters has confirmed that he played a version of the X-Men character Ursa Major.
While you may not necessarily know Olivier Richters by name, you definitely didn't miss his appearance in Black Widow, as he was the hulking man who arm-wrestled David Harbour's Alexei Shostakov in prison. Now that Black Widow has been out for a week, Ritchers went on Instagram to not only share a picture of him alongside one of his fellow inmate actors, but also talk about how much it means to him getting to play someone from the X-Men corner of the Marvel mythology.
As Olivier Richters noted in his post, the comics version of Ursa Major has the mutant ability to transform himself into an anthropomorphic bear, though the longer Ursa (whose real name is Mikhail Uriokovitch Ursus) stays in this form, the more he loses control of his human intelligence. Like Red Guardian, Ursa has served on the Winter Guard and has also been part of the Soviet Super-Soldiers team. Outside of the comics, along with Black Widow, Ursa has appeared in the Avengers Assemble animated series and the Marvel Future Avengers anime series.
As far as Black Widow is concerned, Ursa showed no mutant abilities, and while he's obviously stronger than nearly every other inmate at that Russian prison, he was still no match for the artificially enhanced Alexei, who condescendingly referred to him as a "big bear." Still, at least Ursa called out the Red Guardian for his fake story about having fought Captain America in the 1980s. You can re-watch that scene below.
So needless to say that Olivier Richters' appearance as Ursa in Black Widow was a cameo at best, but could it turn into something more? Richters certainly wants that, and with his film profile soon expected to boost for his turn as Krom in the Borderlands movie, perhaps Marvel Studios will be game to give him a bigger role down the line. Red Guardian survived the events of Black Widow, and if Ursa ends up gaining the same powers his comic book counterpart has, it would be great to see them properly clash.
Some extra incentive to make this happen is that mutants will eventually be introduced to the MCU, since as a result of Disney buying 20th Century Fox (now renamed 20th Century Studios), Marvel Studios finally has access to the X-Men property. Details about how mutants will be handled in this franchise are still being kept tightly-guarded, but considering that Ursa was never featured in the Fox X-Men film series, it'd be cool if he could get some time to shine in the MCU in his bear form, especially if Russia decides to put together its own counterpart to the Avengers.
While we wait for news concerning the MCU's handling of the X-Men and details about other upcoming Marvel movies, be sure to read CinemaBlend's review of Black Widow, as well as look through our breakdown of the movie's ending and the post-credits scene.
Connoisseur of Marvel, DC, Star Wars, John Wick, MonsterVerse and Doctor Who lore. He's aware he looks like Harry Potter and Clark Kent.
Your Daily Blend of Entertainment News
Thank you for signing up to CinemaBlend. You will receive a verification email shortly.
There was a problem. Please refresh the page and try again.