Black Widow End Credits Scene: What Happens, And What It Means For The Marvel Cinematic Universe's Future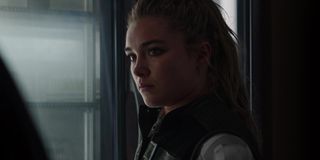 SPOILER WARNING: The following article contains major spoilers for the end of Black Widow. If you have not yet watched the film, read on at your own risk!
After what has felt like an exceptionally long wait, the Marvel Cinematic Universe is back on the big screen. We originally expected Cate Shortland's Black Widow to arrive in theaters about 10 months after Jon Watts' Spider-Man: Far From Home, but instead the pandemic has made it so that it's been about two years, and the 2020 movie became a 2021 movie. Fortunately, that drought has ended. And not only does that mean fans get to go to their local cinema to see superhero blockbuster action, but we also once again have the wonderful experience of anticipating a special end credits scene.
In this respect, Black Widow definitely delivers, as there is a special coda included in the movie that provides a wonderful tease of what's to come in the franchise – both in the immediate future, and in the vaguer macro sense. In this feature we'll dive into what happens and what it means, and to operate logically let's start with the former…
What Happens In Black Widow's End Credits Scene
In the wake of the adventure in Black Widow, which takes place between the events of Captain America: Civil War and Avengers: Infinity War, the Marvel end credits scene performs a kind of time jump and catches up with Yelena Belova (Florence Pugh) sometime in the aftermath of Avengers: Endgame. This is made clear because of where Yelena is standing: over the grave of Natasha Romanoff (Scarlett Johansson).
As she quietly mourns her sister, she is approached by a mysterious individual whom fans who watched The Falcon And The Winter Soldier will instantly recognize as Valentina Allegra de Fontaine (Julia Louis-Dreyfus). It's made clear that this isn't the first time that they are meeting, and that Yelena is working for Val – evidenced by the former Russian spy complaining that she is supposed to be on vacation.
It's not made explicit what the two women have been doing together, but it is made clear what their next "collaboration" will be. Val tells Yelena that she has acquired a new target, and that it will give Yelena the chance to get revenge on the person responsible for Natasha's death. A photo is shared, and it's revealed that the man the Black Widow is meant to kill is none other than Clint Barton a.k.a. Hawkeye – who was with Natasha on Vormir in Avengers: Endgame when she sacrificed her life in aim of acquiring the Soul Stone.
How Black Widow's End Credits Scene Sets Up The Hawkeye Disney+ Series
It was back in December that it was officially confirmed that Florence Pugh's Yelena Belova would be appearing in Disney+'s upcoming Hawkeye series starring Jeremy Renner – but, naturally, Marvel kept mum regarding any details regarding the role that she would play in the limited series. Now, thanks to the Black Widow end credits scene, we have a much clearer idea of how she will be entering that particular narrative.
Based on the evidence presented, it seems that Yelena's role in Hawkeye, at least at the start of the show, will be an antagonistic one, as she executes her mission to try and assassinate Clint Barton. Of course, she is clearly being manipulated, so it also seems fair to assume that there will be at least some time in the story dedicated to the Avengers' resident archer trying to convince the new Black Widow of the truth.
Set to debut later this year (an official date has not yet been announced), Hawkeye will be another original Disney+ series set in the aftermath of Avengers: Endgame, and it will primarily center on Clint Barton's efforts to train a young woman, Kate Bishop (Hailee Steinfeld), as his successor and to take on the Hawkeye mantle. In addition to Steinfeld, Jeremy Renner, and Florence Pugh, the show will also star Tony Dalton, Vera Farmiga, Fra Fee, Alaqua Cox, and Zahn McClarnon. We don't yet know if Julia Louis-Dreyfus will also be making appearances, but speaking of her…
How Black Widow's End Credits Scene Could Impact The Future Of The Marvel Cinematic Universe
Sending Yelena after Hawkeye is clearly a big swing made by Valentina Allegra de Fontaine, but as those who have watched The Falcon And The Winter Soldier know, that is only one of multiple plays that the mysterious woman is in the process of facilitating. She clearly has a vendetta against established superheroes and a desire to control her own team of costumed vigilantes, and it seems totally fair to assume that is going to develop as a huge deal in the next few years in the Marvel Cinematic Universe.
For those who don't recall, the last time we saw Val was in the final episodes of the MCU's second Disney+ original series, and what she was doing was setting up the semi-disgraced John Walker as U.S. Agent – a new super soldier operating in parallel to Sam Wilson as the new Captain America. Unlike the case with Yelena, we have not yet seen the villainess with the purple-striped hair dispatch her patriotic "hero" on any missions, but she is very clearly a fan of his violent instincts and how they mix with his super strength.
With the launch of Phase 4, it seems like Val is being established as a kind of anti-Nick Fury – and in that sense her appearance at the center of this end credits scene feels like a natural counterbalance to Fury's debut at the very, very end of Jon Favreau's Iron Man.
Taking a step backwards out of the canon, it is interesting to note that Julia Louis-Dreyfus's first appearance as Val was initially going to be this scene in Black Widow, with her expanded role in The Falcon And The Winter Soldier meant to play out subsequently. But then the pandemic came and jumbled Marvel Studios' release strategy. Had things gone as originally planned, the end credits scene discussed here would have been vastly more mysterious, with fans left wondering about the enigmatic new character, but instead we have now have a lot more context for her cameo, and it's going to feed plenty of speculation.
Black Widow is now in theaters and available on Disney+ via Premier Access. To learn about everything coming up in the next few years from the Marvel Cinematic Universe, check out both our Upcoming Marvel Movies guide, and our Upcoming Marvel TV guide. And for a look at all of the movies we've seen thus far, check out our Marvel movies ranked feature.
Your Daily Blend of Entertainment News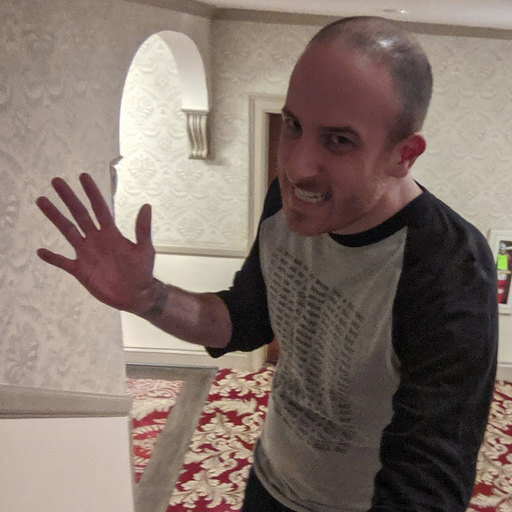 Assistant Managing Editor
NJ native who calls LA home and lives in a Dreamatorium. A decade-plus CinemaBlend veteran who is endlessly enthusiastic about the career he's dreamt of since seventh grade.