Kevin Hart Has A 7-Foot Co-Star In Borderlands Movie And Jamie Lee Curtis Can't Get Enough Of The Height Difference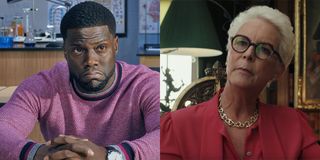 You know things will get crazy in a live-action Borderlands movie, but I didn't know it was about to get man-who-is-absolutely-jacked-and-over-7-feet-tall crazy. A Dutch bodybuilder named Olivier Ritchiers has been cast in Borderlands, and when he stands next to co-star Kevin Hart, who is almost a whole two feet shorter, it's wild. Jamie Lee Curtis, who also will be starring in the film adaptation of the Borderlands video game, can't get enough of the two stars' height difference.
Kevin Hart originally posted a picture of himself and his 7'2 co-star towering above him, and Jamie Lee Curtis wanted to show her love by reposting the photo on her Instagram page. She is all praises for the two stars by saying they both have big hearts, and that's the only size that matters. You can check out the photo below:
While it may seem like Jamie Lee Curtis is trying to make Kevin Hart feel a little better about his size, it doesn't look like he's bothered at all about it. Even though he's always being compared in size to his huge friends, he has the confidence of someone twice as big as him.
Jamie Lee Curtis kept Kevin Hart's original caption of the photo below her new one, which is a very confident "I don't know what y'all see, but I personally see TWO GIANTS! It's a MINDSET DAMN IT!". Hart definitely has a mindset of someone who can reach the highest of shelves. You know, even though he probably needs his wife's help to do that.
Speaking of Kevin Hart's wife, his giant mindset landed a beautiful queen who stands around a half foot taller than Hart. While lot of men might be uncomfortable being so much shorter than their significant other, it doesn't seem to phase Hart, who even pokes fun at his own height sometimes.
Conversely, we have the 7'2 Oliver Richters, the self-proclaimed Dutch giant, whose Instagram says he is the tallest bodybuilder and actor in the world. Honestly, I believe it, and leave it to the Borderlands casting agents to go to the extremes; hopefully the film is just as wild as the game. You can also catch Richters in a big way this year in the upcoming movies The King's Man and Black Widow.
As for Borderlands, we won't be seeing Kevin Hart, Jamie Lee Curtis, and Oliver Richters on screen together this year, and the film actually doesn't have an announced release date yet. Borderlands is still filming with COVID safety protocols in place, but we do know a few things about it, including the fact that it features an all-star cast and will be horror director Eli Roth's biggest film to date.
So far it seems like Borderlands is coming together to be a pretty solid film... almost as solid as Kevin Hart and Oliver Richters look together - and I'm here for it just as much as Jamie Lee Curtis is!
Your Daily Blend of Entertainment News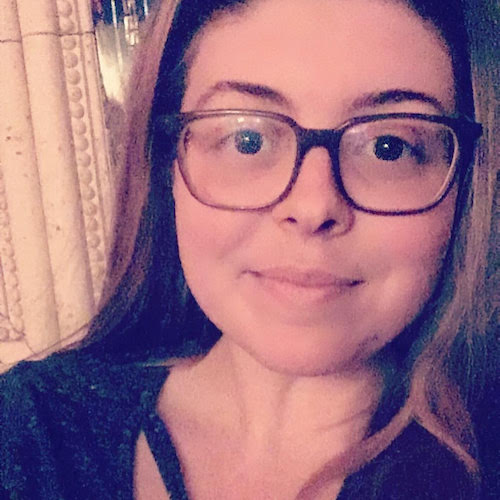 Constantly thinking about books, coffee, and the existential dread I feel from Bo Burnham's Inside. While writing I'm also raising a chaotic toddler, who may or may not have picked up personality traits from watching one too many episodes of Trailer Park Boys.