Spike Lee Had A Steve Harvey-esque Whoops While Announcing Winners At Cannes, Later Apologized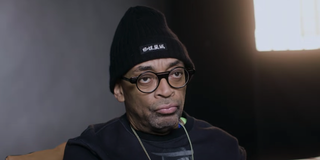 Everybody makes mistakes, but it can be embarrassing when those mistakes happen on a massive stage (just ask Steve Harvey). That is especially true if they affect the outcome of an important event like, say, the Cannes Film Festival. Just ask famed director Spike Lee, who has apologized after he prematurely announced this year's Palme d'Or.
As this year's Cannes jury president, Spike Lee had a lot of responsibility on his hands -- watching and assessing the eligible films and deciding which will receive awards, and also announcing those prizes at the end of the festival. At the beginning of the ceremony, the Do The Right Thing director was asked to announce the first prize -- which was meant to be Best Actor, awarded to Caleb Landry Jones for his performance in Nitram. Lee misunderstood the direction and thought he was asked to reveal the first place, or Palme d'Or, winner. This year, that honor belongs to Julia Ducournau's film, Titane, which is a bit of an historic achievement, as she is only the second woman in history to take home that prize.
The result of the confusion was that the night's top honor, which has previously gone to films like Pulp Fiction and recent Oscar-winner Parasite, was revealed right away, which probably felt pretty anticlimactic to the festival-goers. The ceremony continued on in the right order, and Titane was eventually awarded for real at the end, as planned. Spike Lee, for his part, took full responsibility for the slip-up (via Indiewire):
The legendary director also made sure to speak to those affected by his honest mistake before he officially announced Titane's exciting achievement. He continued:
The director later said that he had apologized to the team at Cannes and they had assured him he had nothing to worry about. In the realm of big award show mistakes, Lee's is pretty tame. At least he didn't announce the wrong winner for the Palme d'Or, like Steve Harvey did back in 2015 at the Miss Universe pageant.
While everyone involved was still able to be recognized properly in due time, Spike Lee's willingness to own up to his mistake in such a public setting goes to show why he's so well-respected by film fans and his peers alike. Also, while it was an unfortunate blunder, it's a good reminder to us all that nobody is perfect -- not even Academy-Award winning filmmakers.
Your Daily Blend of Entertainment News
Thank you for signing up to CinemaBlend. You will receive a verification email shortly.
There was a problem. Please refresh the page and try again.