Adam Driver Actually Lights A Cigarette As Ovation For His New Movie Goes On And On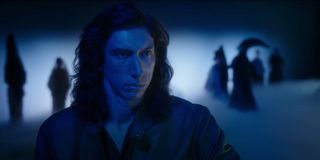 The Cannes Film Festival is famous for a lot of things, ranging from a specific dress code to a multitude of acclaimed movies. Something else the Cannes Film Festival is known for? Standing ovations. Really, really, really long standing ovations that have been known to last for minutes at a time. It can be a bit awkward for actors to just stand there for that long, so you can't blame them for finding something else to do while they wait. A prime example was Adam Driver at this years' Cannes festival.
Adam Driver was present at the 2021 Cannes Film Festival for the screening of his new movie Annette. The film hasn't been released to the general public just yet, but if the standing ovation it received is anything to go by, it should have no problem finding an audience. The movie musical's ovation was so long that Adam Driver was spotted lighting a cigarette to pass the time. You can watch the video below (courtesy of Variety editor Ramin Setoodeh's Twitter account):
Look, I'd feel weird just standing around, too. And it seems to be in good fun: Adam Driver playfully blows smoke into the camera after his first drag. In addition to Adam Driver lighting his cigarette, you can spot his Annette co-stars Marion Cotillard and Simon Helberg joining the applause. Marion Cotillard (La Vie en Rose, Midnight in Paris) was radiant in a shimmering Chanel gown, while Adam Driver opted for a classic penguin suit.
No word on how long the clapping actually lasted, but let's hope for Adam Driver's sake that it wasn't as long as the 8-minute ovation for Joker at the Venice Film Festival. Or the Cannes ovation for Guillermo del Toro's Pan's Labyrinth, which holds the record for longest ovation ever. It lasted an absurd 22 minutes. However, that movie rules, so I get it.
Adam Driver has been pretty busy lately. In addition to Annette, which was directed by Leos Carax, the actor made waves when the first photos from the set of House of Gucci dropped on Twitter. The film tells the story of Maurizio and Patrizia Gucci, who were once heads of the iconic Gucci fashion house. They got divorced, she hired an assassin to kill him - it was a whole thing. Adam Driver will play Maurizio, and none other than pop star and A Star Is Born actress Lady Gaga will play Patrizia.
Adam Driver has a number of additional upcoming projects. They include The Last Duel with Ben Affleck and Matt Damon; White Noise, which reunites him with Marriage Story director Noah Baumbach; and 65, the directorial debut of Bryan Woods and Scott Beck (A Quiet Place).
Your Daily Blend of Entertainment News
Actor, singer, and occasional dancer. Likes: fashion, books, old buildings. Dislikes: cilantro, the NJ Turnpike, sneaker wedges.