Pulp Fiction: 10 Behind-The-Scenes Facts About The Quentin Tarantino Movie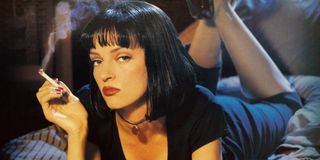 Some filmmakers find their stride with their second movie. For writer/director Quentin Tarantino, he cemented his legacy. Pulp Fiction is Tarantino's career-defining film. Hot off the success of Reservoir Dogs, Tarantino not only proved himself to be the real deal, but he earned his status as one of the greatest filmmakers of the late 20th century. His Palme d'Or winning triumph is arguably his finest masterpiece, reviving John Travolta's career while also turning Uma Thurman and Samuel L. Jackson into major superstars.
Tarantino may never top himself when it comes to Pulp Fiction, but when you make a movie this good, who needs any extra valor? It's a movie that shaped cinema — especially indie cinema — for decades, and we'll still feel its impact reverberate for years to come. So, yeah, Pulp Fiction is a pretty big deal. If you love this highly-influential film, here are some interesting behind-the-scenes facts worth knowing.
Robert Rodriguez Directed Quentin Tarantino's Scene In Pulp Fiction
It's always good to have a friend. Ever since they premiered their debut films at the 1992 Sundance Film Festival, Quentin Tarantino and Robert Rodriguez have been thick as thieves and frequent collaborators, resulting in notable team-ups like From Dusk Till Dawn and Grindhouse. They've also played a hand in each other's movies, unsurprisingly, with Tarantino directing a sequence in Sin City and Rodriguez calling the shots during Tarantino's scene in Pulp Fiction.
It's hard to pull off double duty, after all. While there are multi-taskers in Hollywood who can direct and act at once, including Clint Eastwood and Ben Affleck, when you're as detail-orientated as Tarantino, it can be extremely challenging to do both jobs simultaneously. Thankfully, Rodriguez was there to ghost-direct Tarantino's memorable moment so that the filmmaker could focus squarely on his performance. Rodriguez is a good pal.
John Travolta Got Advice From A Former Heroin Addict To Prepare For His Role
Every actor has their method. Each performer has their individual ways of finding the headspace of their characters, their own unique style of getting in-tune with the characters they're playing. John Travolta has never done heroin, by his own admission, which makes it tricky to discover and create Vicent Vega's high when his character is all strung out.
How do you know what it feels like if you've never experienced this type of drug-addled ecstasy? To get Travolta in the proper frame of mind, Quentin Tarantino recruited his friend, a former heroin addict, to give Travolta the insight he wanted to glean. What advice did he give? Drink as much tequila as you can and sit in a hot pool.
Quentin Tarantino Wrote Vincent Vega For Michael Madsen, But He Turned It Down
It's not uncommon for screenwriters to write characters with specific actors in mind. Certainly, Quentin Tarantino is someone who thinks in a very cinematic fashion, so he likes to envision big-name actors and/or frequent colleagues for his charismatic characters. Still, what you imagine on the page isn't always what you get on the screen. Everyone isn't going to be on your wavelength, and you'll get some tough rejections along the way.
For the role of Vincent Vega, Tarantino wrote it with Michael Madsen in mind. The actor and director collaborated on Reservoir Dogs, and Tarantino wanted to bring Madsen's moody energy back for this leading role. Alas, Madsen turned down the part — surprisingly enough — to star in Wyatt Earp instead, which Tarantino reportedly took personally. They wouldn't work again until Kill Bill Vol. 1 and 2.
Daniel Day-Lewis Actively Wanted To Play Vincent Vega
Even though Michael Madsen didn't accept the part, there were several other actors in the line-up for Vincent Vega. One particularly outstanding actor who was intensely considered was none other than Daniel Day-Lewis — who's often considered our finest working (or once working) thespian. He's notoriously hard to coax when it comes to casting; there are many stories of people — even from filmmakers as famous as Martin Scorsese — pleading for Day-Lewis to be in their movies. Nevertheless, producer Harvey Weinstein was adamant about casting Day-Lewis over John Travolta.
Surprisingly enough, Day-Lewis was also reportedly eager to take it. Despite Weinstein's insistence and Day-Lewis' uncharacteristic casting determination, however, Quentin Tarantino stuck to his guns and picked Travolta. It's hard not to wonder what Day-Lewis would've done...
The F-Bomb Is Dropped 265 Times In Pulp Fiction
Quentin Tarantino sure loves his four-letter words. While the prolific screenwriter can often be quite verbose, he's rarely, if ever, afraid to lace his scripts with cusses. And he's especially fond of dropping the f-bomb. The director's second film remains his most explicit, as characters are heard swearing a grand total of 431 times. That's a lot of money in the swear jar. Furthermore, "fuck" is dropped a whopping 265 times throughout. Yes, that means that "fuck" constitutes more than half of the swear words heard over the course of the film, with more-than-a-few coming out of Samuel L. Jackson's profane mouth.
Some of the movie's most quotable dialogue involves its most naughty language, so it's unsurprising that Pulp Fiction's phenomenal success only continued to embolden the writer's cussing. With that said, the Oscar-winning writer has yet to outmatch this film's voluminous profanity.
The Famous Dance Scene Was Improvised 'Quite A Bit,' According To John Travolta
Quentin Tarantino loves a good dance scene. Groovy soundtracks and head-bobbing tunes play a crucial part in seemingly every one of his films, and it's not uncommon for the filmmaker to spend considerable screentime watching his characters jamming out to these tunes. Sure enough, his most iconic dance sequence is arguably the one shared between John Travolta and Uma Thurman midway through Pulp Fiction.
This swinging scene basically bleeds coolness, and its spontaneous feeling isn't accidental. As Travolta admitted in a career-evaluating profile, their dancing was "improvised quite a bit," as the actor insisted that they do more than just The Twist, which is what Tarantino exclusively had in mind. Travolta told Tarantino to call out other dance moves like The Spin and The Batman inside the moment, and he claims this scene didn't require many takes.
Samuel L. Jackson's Anger During The Final Audition Secured Him The Part
It's hard to imagine anyone other than Samuel L. Jackson playing the part of Jules Winnfield in Pulp Fiction. It's the role that defined his career; the only performance (to date) for which he's been Oscar-nominated. Pulp Fiction is the movie that turned Jackson into a superstar. And the role was secured to the actor by his impassioned audition.
As Vanity Fair reported, Jackson entered his final audition angry after he was mistaken for Laurence Fishburne. His final audition was laced with righteous fury, and it was so effectively menacing that Miramax's Richard Gladstein was reportedly left shaken. He was clearly the perfect actor for the part, and this audition allegedly influenced how this scene shaped up. Jackson's decision to have a hamburger and cola in hand was so effective that it was eventually written into the movie.
The Red Chevrolet Malibu Belonged To Quentin Tarantino (And It Was Stolen)
Quentin Tarantino is a big fan of cool cars. It's certainly apparent in a number of films. Whether it's Kill Bill, Death Proof, or Pulp Fiction, the man likes to have his characters driving around in slick automobiles. Who can blame him? It's cool to watch cool characters driving cool cars. You don't need to be a rocket scientist to figure that out. Sure enough, Pulp Fiction features a very cool car in the form of its retro red Chevrolet Malibu.
It's a dynamite automobile and a slick ride. Certainly, Tarantino would agree. He owns the car. Well, owned it, I should say. Shortly after filming wrapped, the vehicle was stolen from a nearby parking garage, and it took nearly 20 years before the classic car turned up again in Oakland, California, hundreds of miles away from Tarantino.
Reportedly, Pulp Fiction Was Once Meant To Be A Straightforward Anthology With Three Different Directors
Quentin Tarantino has a bunch of ideas floating around his head. When it comes to Pulp Fiction, one of its most influential aspects is its non-linear narrative. It's an unconventional way of tackling a conventional crime thriller genre, and it makes for a compelling, dynamic way to tell this story, particularly with a variety of characters. When he was originally laying out the story, however, Tarantino had another intriguing idea. Rather than tell the story in a non-linear fashion, what if it was told in a chronicle style but in an anthology fashion? This way, three separate filmmakers would tackle each act. It's a wild idea — one that seemingly inspired 1995's Four Rooms.
The Pulp Fiction Prequel Never Happened Because Quentin Tarantino Could Never Move Past The Premise Of The Story
Every Quentin Tarantino movie exists in a shared interconnected world. Assorted disparate characters are interlaced with one another. Events that took place in one movie can impact characters found in another film. It's all part of Tarantino's elaborate spiderweb of a filmography. Therefore, it's no secret that he has proposed various sequels, prequels, or continuations to past films that never came to pass.
The reasons vary, but commonly, it's because the story doesn't come together. It happens. Alas, when it comes to the long-promised Pulp Fiction/Reservoir Dogs prequel, Tarantino simply couldn't find the story. Here's what he told the guys at the ReelBlend podcast:
In addition to these fun or noteworthy facts, we should also note that Quentin Tarantino wanted "My Sharona" to play during the notorious pawn basement scene but The Knack turned down the request and Samuel L. Jackson was almost arrested during filming. Do you love Pulp Fiction? Do you know a few more interesting tidbits about the making of Tarantino's Oscar-winning, career-defining sophomore feature? Let us know in the comments!
Your Daily Blend of Entertainment News
Will is an entertainment writer based in Pittsburgh, PA. His writing can also be found in The Playlist, Cut Print Film, We Got This Covered, The Young Folks, Slate and other outlets. He also co-hosts the weekly film/TV podcast Cinemaholics with Jon Negroni and he likes to think he's a professional Garfield enthusiast.