Watch Steve Harvey Accidentally Declare The Wrong Miss Universe Winner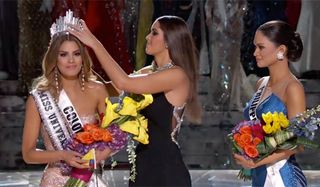 Steve Harvey is good at a lot of things, but running a pageant is apparently not one of them. Last night, the Miss Universe 2015 pageant actually crowned the wrong Miss Universe after Steve Harvey listed the first runner-up as the winner of the whole shebang. He then had to come back onstage after the wrong victor was crowned to admit his mistake. Talk about awkward. You have to check this out:
In the video, Steve Harvey brings the two final women forward, announcing that Miss Colombia has earned the sash and the crown. Everyone claps and Miss Colombia dons the gear and sash, waving and smiling ecstatically as she moves forward. Colombia gets two minutes to enjoy her newfound position before Steve Harvey comes back out and says he needs to apologize. He then has to tell Colombia, aka Ariadna Gutierrez, that she's actually the first runner-up in the pageant. This is the face we get:
The actual winner is from the Philippines and she's standing next to the contestant from the USA when Harvey admits he made a huge flub. The contestant from the Philippines, Pia Alonzo Wurtzbach, doesn't seem to realize what is going on, but luckily USA knows exactly what is happening. She nudges Philippines to let her know she's the actual winner before Steve Harvey gets the words out. This is the winner's reaction:
If you're a pageant participant, this has to be the worst thing that could ever happen, right? Poor Colombia doesn't know what to do. She's standing there with all of the lights on her and she's still wearing the crown and the sash declaring her the winner and Philippines isn't bitchy enough to ask for the crown. They both stand with spotlights on them as Steve Harvey fumbles his way through an apology that goes like this:
Yeah, it's awkward, in a waking nightmare sort-of way. Pageants get a lot of flack for being beauty-based and silly, but I can't imagine what it would feel like to put months of prep work in and then win, only to find out two minutes later that you really weren't quite up to snuff after all. Thank goodness Colombia is a trooper and didn't have a breakdown on stage, as that would have been an absolute mess.
The Miss Universe pageant is shot live and flubs have happened in the past, but we've never seen anything as insane as the mistake Steve Harvey made. We'd be shocked if he is ever asked back to host the popular pageant again.
Reality TV fan with a pinch of Disney fairy dust thrown in. Theme park junkie. If you've created a rom-com I've probably watched it.
Your Daily Blend of Entertainment News
Thank you for signing up to CinemaBlend. You will receive a verification email shortly.
There was a problem. Please refresh the page and try again.