Old Reviews Are Live, Check Out What Critics Are Saying About The New M. Night Shyamalan Movie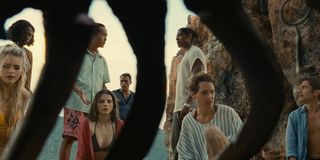 Are you ready for another M. Night Shyamalan thriller? His upcoming film Old is about a family on vacation that discovers that the secluded beach they are relaxing on is somehow causing them to age rapidly, reducing their entire lives into a single day. Shyamalan directed, wrote, and co-produced the movie, and the cast includes Gael García Bernal, Thomasin McKenzie, Eliza Scanlen, Alex Wolff, Aaron Pierre, Vicky Krieps, Rufus Sewell, Abbey Lee, and Ken Leung.
If there's one thing we can be sure about, it's that we can always expect the unexpected with Shyamalan. We'll soon be able to see what twists he has in store when the supernatural thriller releases in theaters this Friday, July 23. We already saw reactions to the supernatural thriller on social media, but now critics have started releasing their reviews, so let's take a look.
Let's start with the home team, as usual. CinemaBlend's own Mike Reyes really enjoyed Shyamalan's thriller, though he did admit that the plot took a little while to actually get going. But he said that once Old found its footing after the opening act, it took off at an exhilarating pace. Reyes commended Shyamalan's claustrophobic direction that lent itself to the horror aspect, and also applauded the strong performances of Bernal, Krieps, Wolff, and McKenzie. He noted that the ending will definitely have audiences talking, and said:
Justin Chang from the Los Angeles Times had a very different opinion of Old, calling it "a gleaming slab of high-end, high-concept summer trash." While he did applaud Krieps' performance, he criticized Shyamalan's direction, even going so far as to say that his visual command, which seldom abandons him, definitely abandoned him here. Chang noted that the dialogue and script were just plain clumsy, and said:
Jordan Hoffman from Vanity Fair actually really enjoyed Old. He thought the plot clipped along at an exhilarating pace, and commended Shyamalan's direction and cinematography for keeping the audience dialed in the entire time. Hoffman was also satisfied by the twist ending (and come on, it wouldn't be an M. Night Shyamalan movie without a twist ending). Overall, Hoffman noted:
Stephanie Zacharek from TIME Magazine didn't have a very positive review of Old, to put it mildly. While she thought the acting was good, she argued that the actors didn't have very good material to work with. She criticized many aspects of the film, from the "agressively disorienting" camerawork to the extremely stiff dialogue, and said:
David Ehrlich from IndieWire didn't go so far as to say the psychological horror flick was "dumb," per se, but he thought the movie certainly had its weak points. While he enjoyed the performances of many cast members, such as Krieps, Pierre, Sewell, and Lee, he pointed out that the writing left something to be desired, and basically saw the actors "try to wiggle out of Shyamalan's writing like straitjacketed musicians in an underwater vault." In addition to the dialogue, Ehrlich criticized the hurried plot and said:
Well, those were some pretty mixed reviews. Will audiences enjoy the horror film, or will they have varied opinions, like the aforementioned critics? We'll find out very soon, as Old releases in theaters tomorrow, July 23.
If you're looking for more movies to see after M. Night Shyamalan's latest, check out our summer movie release guide.
Your Daily Blend of Entertainment News