Old Has Screened, Here's What People Are Saying About The M. Night Shyamalan Thriller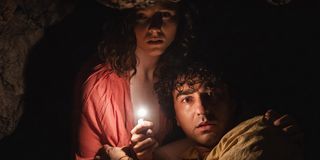 M. Night Shyamalan's next film is almost here! He directed, wrote, and co-produced Old, an upcoming supernatural thriller, loosely based on the graphic novel Sandcastle. The ensemble cast includes Gael García Bernal, Thomasin McKenzie, Eliza Scanlen, Alex Wolff, Aaron Pierre, Vicky Krieps, Rufus Sewell, and Ken Leung. In the movie, a family on a tropical vacation discovers that the secluded beach they are relaxing on for a few hours is somehow causing them to age rapidly, reducing their entire lives into a single day. You can check out the full trailer for a peek at what that looks like, but beware, because you'll be checking for wrinkles for the next couple of days.
It's always a good bet to expect the unexpected with Shyamalan. Did you know he was still fine-tuning the ending of Old, just a month ago? If I had to guess, he'll have a definite ending to the thriller when it releases in theaters this Friday, July 23. The social embargo has lifted for the movie, so critics are starting to share their thoughts on social media. Let's take a look, shall we?
CinemaBlend's own Sean O'Connell praised Shyamalan's filmmaking in Old, calling it exhilarating. He even thought that this movie featured some of the most "bold and aggressive" filmmaking he's ever seen from the director. O'Connell also applauded McKenzie's performance in the thriller. While he thought the story could have been a little stronger, he still enjoyed the film overall, saying:
Also from the CinemaBlend side, Mike Reyes enjoyed the film, too. While he thought the beginning of Old was a little too slow and clunky, when it actually gets going, "it flies like a bat out of hell." He applauded the mix of horror and emotional family drama in Old, and said:
Germain Lussier from Gizmodo also really enjoyed the psychological thriller, noting that, in his opinion, it's the best movie Shyamalan has made since 2000's Unbreakable. He thought it was hard to watch in a good way, as he seemingly loved every second of Old. Lussier said:
The Shyamalan thriller had Critics Choice member Fico Cangiano in stress mode throughout the entire thing, which is why he recommends that movie fans see it. He liked the premise and themes throughout Old, and of course the suspense. Cangiano said:
It would seem that Old excels at keeping people on the edge of their seats. Carol Grant, with credits at IndieWire and VICE, thought it was absolutely terrifying. She highly praised Shyamalan's direction, and considers it his most "elegantly directed movie since Signs." She also teased the ending of the movie, saying:
Well, for the most part, people seem to be enjoying Shyamalan's Old, but of course critics still have critiques. Soon, you'll be able to see for yourself when the psychological thriller releases in theaters this Friday, July 23.
If you're eager to plan more trips to the movie theater (or your couch), check out our summer movie release guide.
Your Daily Blend of Entertainment News