Why 25,000 Current And Former Disneyland Employees Are Suing The Theme Park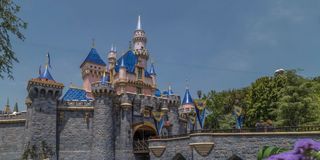 Disney is a large company with lots of branches. And while its movie branch is dealing with a major Black Widow related lawsuit from Scarlett Johansson right now, its theme parks division is also seeing a massive lawsuit. In fact, 25,000 current and former employees of the Orange County-based Disneyland parks are now suing the company.
That may seem like a large number of people, but the new suit is a class action lawsuit, which means one of the parties suing is actually a collective of people. In this case, the suit was actually filed in 2019 but is just now seeing traction as a judge granted the filing "Class Action" status during the month of July, per SF Gate, which also notes the number of employees allegedly involved in the lawsuit.
As we head into August, details of the suit are coming to light. First and foremost, the lawsuit states that Disneyland employees are being underpaid based on laws that were passed by the city of Anaheim, where Disneyland is located. It's a little bit complicated. So let's run through what we know.
How Much Are Disneyland Employees Paid?
Past job descriptions for Disneyland employees, including a notice for a cosmetologist in 2019, ranged between $12-$14.05 dollars an hour. A report published last year in the OC Registar noted that the average Disneyland salary was about $40,000 per year, or $19 dollars an hour. Of course, you have to factor in newcomer salaries versus raises over time. That same report noted that Unions representing ? of Disneyland employees had agreed to a $15 minimum wage at the beginning of 2019. It does not mention non-union wages; to note, there are some contractors who are not official Disneyland employees who are involved in the new lawsuit.
The current report at the Los Angeles Times mentions that Disneyland had agreed to raise the starting wage for Disneyland employees to $15.45 by 2020, though shutterings and payouts during the pandemic were unclear. Disneyland did make initial payouts during the shutdown, but later did lay off a number of employees at the Happiest Place on Earth. This is also not the first lawsuit that has come about in recent years related to pay in the parks.
Why Disneyland Employees, Former And Current, Are Suing
It's complicated, but the gist is that Disneyland takes some tax breaks from the city of Anaheim, CA. According to the Class Action lawsuit, the lawsuit states that a measure passed by the city, Measure L, should apply to Disneyland. If true, Disneyland should have raised its wages to $15 an hour in 2018 with a second increase to $18 an hour by 2022. Additionally, cost of living increases would also be required under these rules.
Both Disneyland and the City of Anaheim, though, disagree that Disneyland's tax breaks qualify as subsidies for the city that would require the theme parks to abide by the full regulations listed in Measure L.The main thing? Disneyland is arguing it is not responsible for the "living wage" increase listed in the filing and the measure.
The attorney who filed the class action lawsuit is Randy Renick. He believes that since Disneyland is paying off bonds on a parking garage on property (a property which also includes California Adventure and the Downtown Disney District). The company is allegedly using tax dollars to do this. Due to this structure of repayment, the lawsuit states it believes Disney must abide by Measure L, which it is currently not in compliance with. The lawsuit reads:
Disney argues this agreement is not a city subsidy, as does the City of Anaheim. The parking garage itself will not be paid off in full until 2036. We'll have to wait and see what the end result is, but hopefully, this lawsuit will be figured out before then.
Reality TV fan with a pinch of Disney fairy dust thrown in. Theme park junkie. If you've created a rom-com I've probably watched it.
Your Daily Blend of Entertainment News
Thank you for signing up to CinemaBlend. You will receive a verification email shortly.
There was a problem. Please refresh the page and try again.