How Avatar's Stephen Lang Reacted After Reading The Scripts For James Cameron's Sequels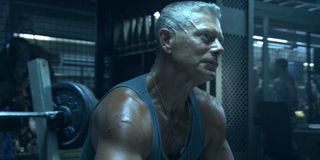 The Avatar sequels have been many years in the making, and they are closer than they have ever been to actually being in front of fans. James Cameron's films are doing some exciting things, such as bringing in new actors like Michelle Yeoh. However, they'll also bring back stars from the first film like Sigourney Weaver, who was drawn to the franchise by the emotional stories Cameron is able to tell. Now, Stephen Lang, who is also returning for Avatar 2 despite his on-screen death, has shared his emotional reaction after reading all of the scripts for all of the Avatar sequels.
While speaking to Collider about his new film Don't Breathe 2, Stephen Lang was asked about the sequels to Avatar and, as you would expect, he didn't give away any plot details or specific information. Despite this, Stephen Lang recalled having an emotional experience while reading James Cameron's scripts, saying:
If Stephen Lang says the scripts for the Avatar sequels left him "weeping," then we're definitely in for a visceral experience. James Cameron does have a knack for telling emotional stories that don't get lost in the giant blockbuster nature of his movies. The emotion found in Cameron's films usually drive all the effects, action and whatever new technology he's showing off. All in all, it seems the Avatar sequels are not only going to be bigger and better than the original but even more emotionally effective.
After hearing Stephen Lang's comments on the Avatar sequels, it's honestly not hard to see why James Cameron is able to draw in talented stars for the movies like Kate Winslet, who has worked with Cameron before. And let's not forget that over the course of his illustrious career, Cameron has also worked with the likes of Leonardo DiCaprio, Zoe Saladana and Arnold Schwarzenegger.
Still, even an Oscar-winning director has to keep on his game. James Cameron has talked about the different pressures that have come with making sequels to a mega-hit like Avatar. Doing something different and pushing the franchise forward, while retaining what made the first film special, is quite the challenge, one that actually almost made Cameron fire his entire writer's room.
But if anyone has the ability to meet such great expectations, it should be James Cameron. And with the Avatar films having been in the works for years now, one would imagine that he's put a lot of thought and care into how he wants to continue the story of Sam Worthington's Jake Sully and Zoe Saldana's Neytiri. You can catch the first of Cameron's sequels, Avatar 2, when it hits theaters on December 16, 2022.
Movie and TV obsessive. A good Heist movie is the way to my heart. Enjoyer of everything from Marvel Movies to Rom-coms.
Your Daily Blend of Entertainment News
Thank you for signing up to CinemaBlend. You will receive a verification email shortly.
There was a problem. Please refresh the page and try again.