Avatar 2: How James Cameron Is Handling The 'Pressure' That Comes With Making The Sequel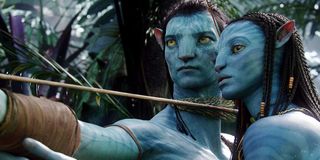 Avatar has recently taken back the title of the highest-grossing movie from Avengers: Endgame. Avatar's highly-anticipated sequels are still in the works, adding the likes of Oscar winner Kate Winslet to the cast (who has admitted working on Avatar 2 is calmer than working on Titanic). James Cameron is handling the pressure of making a sequel to the biggest movie ever the best he can and recently reflected on the "pressure" of making more than one sequel to a 2+ billion dollar movie.
Sequels are always hard, especially when the original is well-regarded. The desire to make something that truly measures up to the original doesn't always work out. James Cameron definitely feels the intensity of this undertaking as he mentioned to Jimmy Fallon on a recent episode of The Tonight Show:
James Cameron joked about crying every day at the thought of topping the first Avatar. There is some truth behind the exaggerations, especially when you consider just how much of a cultural moment the film became when it released years ago. Cameron said they try every day to capture what made the first film resonate with fans and how to do something that will stand on its own at the same time. It's a healthy way to take on such a project, and if anyone can pull it off, it's James Cameron.
James Cameron isn't worried about box office success as much as he's concerned about getting back into movie theaters, and who could blame him when he's been working so hard on continuing the Avatar franchise. Avatar 2 has been in development for so long, and a lot of hard work has gone into the sequel coming to fruition. Cameron even threatened to fire the entire writer's room early in its development, so he is prepared to do whatever it takes to get the job done.
Despite the hiccups and long development time, James Cameron is still surprised by how good the Avatar sequels look, which is probably a good sign for the film. Whether the sequel lives up to the original, Avatar 2 will still more than likely break new ground in movie-making just like its predecessor. Whenever Avatar 2 comes out, fans will hopefully be able to experience it in all its glory on the big screen.
Your Daily Blend of Entertainment News
Movie and TV obsessive. A good Heist movie is the way to my heart. Enjoyer of everything from Marvel Movies to Rom-coms.