Don Cheadle Recalls Training With Jackie Chan Ahead Of His Iconic Rush Hour 2 Cameo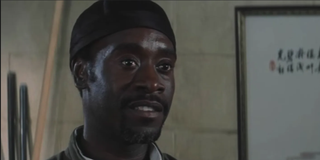 Don Cheadle is a rare Hollywood gem. He's an actors' actor, who seems just as at home on screen in a huge Hollywood blockbuster or a compelling indie drama. With a wide array of roles under his belt, he's earned the right to be a little bit cocky. However, he may have gotten a little bit too confident when he squared off against international superstar Jackie Chan ahead of his iconic cameo in Rush Hour 2.
These days, Don Cheadle is busy sharing the screen with basketball legend Lebron James in Space Jam 2. But twenty years ago, he was better known for his work in movies like Boogie Nights and Out of Sight when he signed on to face off against another legend, in another sequel. The actor's brief appearance in Rush Hour 2 remains one of his most uncomfortable. That's mostly because his character Kenny, the owner of an L.A. Chinese food restaurant, not only shared some witty banter with Chris Tucker, but he also engaged Jackie Chan's Inspector Lee in some hand-to-hand combat and it ended up in a draw. Not many people can say that -- especially those who aren't professionally trained stuntmen.
Don Cheadle recently told Entertainment Weekly that when the cameo appearance was pitched to him, he was originally supposed to get his butt kicked. He says he agreed to do it as long as his character put up more of a fight. While that's ultimately how it plays out on screen, it turns out that the preparation for the scene played out a little less in the actor's favor:
It's not a surprise that Jackie Chan took even his funniest scenes so seriously. He earned his status as one of Hollywood's best action stars with decades of amazing stunt work to his name, after all. Still, it's amusing to imagine Don Cheadle being unexpectedly faced with such an intense training session. You can check out the final product of their work down below:
While it sounds like the scene was a little more stressful than Don Cheadle expected, it also created an unexpected legacy. The actor told EW that when Kendrick Lamar referred to himself as Kung Fu Kenny in his Pulitzer Prize and Grammy-winning album, DAMN, the musician was paying homage to his Rush Hour 2 character.
Both Don Cheadle and Jackie Chan have done some amazing work in the years since Rush Hour 2. Cheadle joined the MCU -- and even earned an Emmy nomination for his two-minute stint in The Falcon and the Winter Soldier (He really is an expert at making the most of minimal screen time). Jackie Chan is still kicking butts, other than Don Cheadle's, and doing his own stunts even as he's well into his 60s.
Your Daily Blend of Entertainment News
Thank you for signing up to CinemaBlend. You will receive a verification email shortly.
There was a problem. Please refresh the page and try again.