How Much Has Guardians Of The Galaxy Vol. 3's Script Changed Up To This Point? Here's What James Gunn Says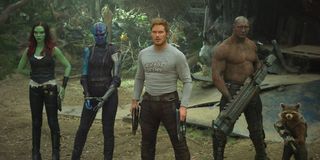 It's been a while - a long while - since Guardians of the Galaxy Vol. 2 hit theaters. That means it's been a pretty long time since writer-director James Gunn began work on the script for Guardians of the Galaxy Vol. 3, too. Given what we know about the ever-evolving Marvel Cinematic Universe, it might seem like the third installment's storyline would have had to undergo some pretty big changes by now. But even though the film isn't set to hit theaters until 2023, it sounds like James Gunn isn't too concerned about having to make major revisions.
James Gunn's journey with the Guardians of the Galaxy series has been, in his own words, pretty emotional. After being fired from Vol. 3 following backlash stemming from his old tweets, he was re-hired (after securing a job at the helm of The Suicide Squad). All of these factors have played a role in why it's taken so long for the third volume of the MCU series to get off the ground.
In the time since Vol. 2 was released and now, a lot has happened on screen in the MCU -- including Endgame, which featured multiple Guardians characters. However, James Gunn recently told The Hollywood Reporter that despite the unexpected lengthy gap between the second and third films, not much has changed as far as the core storyline is concerned:
So far, we don't have too many details about what to expect to see in Guardians of the Galaxy Vol. 3. Way back in 2019, Chris Pratt seemed excited about it -- and knowing that it hasn't changed too much, it seems like we can still expect it to be, as he put it, "off the chain."
James Gunn has said that he hasn't been tasked with carrying any big details from Phase 4 or 5 forward. So fans looking for a wider tie-in to the MCU may want to temper their expectations.
We will definitely get more clues for Vol. 3 when The Guardians of the Galaxy Holiday Special hits Disney+ in December 2022, as James Gunn made it clear that it will tie directly into the next film. Guardians of the Galaxy Vol. 3 will finally hit theaters on May 5, 2023.
Your Daily Blend of Entertainment News
Thank you for signing up to CinemaBlend. You will receive a verification email shortly.
There was a problem. Please refresh the page and try again.