Guardians Of The Galaxy's James Gunn Discusses The 'Emotional' Process Of Crafting The Third Film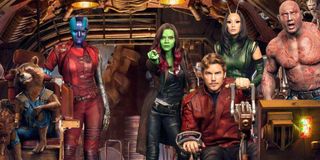 When Guardians of the Galaxy Vol. 3 hits theaters, the cast, crew and fans will have traveled a very long road together to get to that moment. It will have been six years between the franchise sequel and the highly anticipated third installment, which for some time seemed like it wouldn't even happen. So if James Gunn is feeling a little bit "emotional" about the prospect of heading back to the Galaxy set, we can't blame him.
While James Gunn hasn't produced a Marvel production in a while, we all know he hasn't left the MCU behind. After delays due to Gunn being fired, and then rehired, as director of Guardians of the Galaxy Vol. 3, we're getting clues from the cast that pre-production is winding down. Gunn, too, is being candid about the journey and what it means for him as he prepares to start rolling again. During a conversation with EW, he revealed that as he begins to prepare for filming, he's feeling the weight of the moment:
The finer details of what fans can expect from Guardians of the Galaxy Vol. 3 are understandably being locked down, so it's hard to guess exactly what might be coming in terms of heavier subject matter. We know, however, that many of the key cast members, including Chris Pratt and Karen Gillan, will be coming back. Hearing that the third film will have painful elements might make some fans a little wary -- but, then of course, the previous Guardians installments weren't always light, either.
The fact that prepping for Vol. 3 is causing some mixed emotions for Gunn isn't surprising. Earlier this year, he told fans on Twitter that he cried a lot while writing the script. When you add in the personal journey he went through and the uncertainty surrounding his status with the franchise, it would actually be weirder if he wasn't emotional.
Ahead of his return to the MCU, the director is hard at work juggling multiple projects. His DC Films project, The Suicide Squad, has great early buzz and is only a few weeks away from its theatrical and streaming debut. He's also executive producing, writing and directing a spin-off series with John Cena, Peacemaker, for HBO Max.
Hopefully, the director will have more updates to share as Guardians of the Galaxy Vol. 3 starts filming. In the meantime, he'll also helm the Holiday Special due to hit Disney+ in 2022. The long-awaited feature-length third film is currently slated to hit theaters in May 5, 2023.
Your Daily Blend of Entertainment News
Thank you for signing up to CinemaBlend. You will receive a verification email shortly.
There was a problem. Please refresh the page and try again.