The Heartbreaking Way Terminator Genisys' Director Responded To The Movie's Poor Reception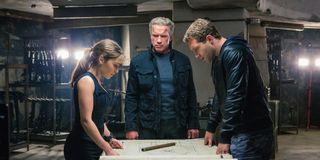 Although the first two Terminator movies remain beloved classics of both the sci-fi and action genres, and cinema in general, the film series has been on rocky terrain ever since then. Among the ways the franchise tried to revitalize itself between 2003 and 2019 was delivering a Star Trek-style reboot in the form of Terminator Genisys, which Game of Thrones and Thor: The Dark World director Alan Taylor was hired to helm. However, the movie was met with mostly negative critical reception, and this resulted in Taylor thinking his filmmaking career was over.
Alan Taylor scored the offer to direct Terminator Genisys a few months before his prior movie, Thor: The Dark World, was released in theaters. At the time, Taylor's girlfriend, storyboard artist Jane Wu, suggested he turn down Genisys and tackle something more personal to him, but Taylor couldn't resist the opportunity to work with Arnold Schwarzenegger and contribute to the Terminator legacy started by James Cameron. Unfortunately for him, Genisys was nowhere near as well-received as 1984's The Terminator and 1991's Terminator 2: Judgement Day, which led to the depressive spiral he explained to THR:
While Terminator Genisys did well enough for itself on the commercial front with a $440 million global haul, it was maligned by most critics, ranking at 27% on Rotten Tomatoes. This is similar to how Thor: The Dark World was received, albeit to a harsher degree. That Marvel Cinematic Universe entry made nearly $645 million worldwide, but has at 66% on Rotten Tomatoes, making it one of the lowest-ranked entries in the superhero franchise.
In any case, Terminator Genisys' poor reception was enough to convince Alan Taylor that his time working in the filmmaking industry was over, but he eventually made his way back behind the camera with "a couple really tiny things." This included helming the pilot for a TV adaptation of the 1971 sci-fi novel Roadside Picnic, directing an episode of the Amazon anthology series Electric Dreams and returning to Game of Thrones to direct the Season 7 episode "Beyond the Wall." Now Taylor is finally returning to the cinematic space with The Many Saints of Newark, the Sopranos prequel movie starring Michael Gandolfini as a young Tony Soprano.
Back to Terminator Genisys, it marked Arnold Schwarzenegger's return to the T-800 role 12 years after Terminator 3: Rise of the Machines, and the 2015 blockbuster also starred Emilia Clarke as Sarah Connor, Jason Clarke as John Connor and Jai Courtney as Kyle Reese. Had a sequel moved forward, it would followed John's journey after he was taken over by Skynet. Instead, it was decided to once again "reboot" the Terminator franchise, with 2019's Terminator: Dark Fate only building off the events of the first two movies. Ironically, Dark Fate earned better critical reception than Genisys, but did much worse at the box office, only making a little over $261 million worldwide.
As things stand now, there are no Terminator movies in development, but an anime series is being made for Netflix. Those of you curious to see how Alan Taylor's work on The Many Saints of Newark can do so once the movie premieres on October 1 in both theaters and on HBO Max.
Connoisseur of Marvel, DC, Star Wars, John Wick, MonsterVerse and Doctor Who lore. He's aware he looks like Harry Potter and Clark Kent.