Terminator 2: 13 Behind-The-Scenes Facts About The Arnold Schwarzenegger Movie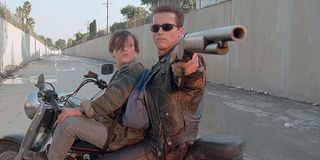 When Arnold Schwarzenegger said he would be back, no one, without the use of time travel, could have predicted just how big of a comeback it would be. If you thought the 1991 blockbuster Terminator 2: Judgment Day was explosive on the big screen, wait until you learn what these behind-the-scenes facts have to reveal.
For the follow-up to his 1984 breakout hit The Terminator, with the titular cybernetic organism this time around being sent back in time as a protector to young John Connor (Edward Fulong) and his mother Sarah (Linda Hamilton), co-writer and director James Cameron wanted to go bigger in every possible way. That would mean more action, more story, more scope and more machines, subsequently meaning that Arnold Schwarzenegger would be allowed to play the T-800 as the hero this time, opposite Robert Patrick, who brings the liquid metal T-1000 to life in brilliantly chilling form.
However, did you know that Robert Patrick was not the first choice to play the villain in Terminator 2? Find out the surprising answer to that mystery and more with the following 13 bits of trivia about the making of one of the most beloved sequels in the history of action movies, science fiction movies and... well, really any genre of movies.
Arnold Schwarzenegger Was A Prankster On The Set Of Terminator 2
He gave, arguably, the finest performance of his career as an emotionless machine, but on the set of Terminator 2: Judgment Day, Arnold Schwarzenegger had quite the sense of humor. While filming an early scene when the freshly transported, and freshly naked, T-800 walks into a biker bar looking for clothes, Schwarzenegger took the opportunity to get a laugh out of the cast and crew by wearing, as James Cameron described to The Hollywood Reporter, "the loudest pair of Hawaiian print board shorts that he can." The director added that the prank actually incited the perfect reaction from the bar patrons who gave the Austrian actor a look of surprise right where it was most appropriate.
Rock Star Billy Idol Almost Played T-1000 In Terminator 2
It is hard to imagine anyone better than Robert Patrick as as the T-1000, which he hilariously reprised in Wayne's World a year later, but it is even harder to imagine someone like, say, Billy Idol in the role. Yet, as Patrick revealed to The Hollywood Reporter in 2017, the musician known for '80s hits like "Rebel Yell" and his The Wedding Singer cameo was originally cast as the Terminator 2 villain, but was forced to give it up after he injured his leg in a motorcycle accident. Idol would not have been able to perform the T-1000's signature sprint, which, as it turns out, Patrick proved to be quite good at.
Robert Patrick Ruined A Take Running Fast Enough To Catch Edward Furlong's Motorbike
The makers of Terminator 2 were very impressed by Robert Patrick's athleticism, which James Cameron described as "panther fast" in the making-of feature T2: Reprogramming The Terminator. In the 2017 documentary, the T-1000 actor recalled how on the first take of the villain's chase at John Connor (Edward Furlong) on a motorbike in a mall parking garage, Patrick caught up with his target effortlessly, which would not have boded well for humanity's future. For Furlong, however, the only race more nerve-racking for the young, first-time actor was the casting process.
A Second Chance Audition Earned Edward Furlong His Part In Terminator 2
The aforementioned doc T2: Reprogramming The Terminator also includes an interview with Edward Furlong, who made his acting debut as future savior of humanity John Connor in Terminator 2: Judgment Day. The now 42-year-old explained how he almost did not get the life-changing part, stating:
While several actors have gone onto play the legendary role, including Christian Bale in Terminator: Salvation and Jason Clarke in Terminator Genisys, for most Terminator fans, Edward Furlong is still the first face they picture. The same, easily, goes for Linda Hamilton as Sarah Connor.
Linda Hamilton Underwent Weapons Training With A Former Israeli Soldier
To reprise the role of Sarah Connor in Terminator 2: Judgment Day, Linda Hamilton had to adopt a persona entirely different from the vulnerable waitress of the first film. That meant making the character an experienced warrior of pristine marksmanship, for which the Golden Globe-nominated actress, and the rest of the cast, trained with Uzi Gal, a former Israeli commando, whose instruction she likened to "entering the military." In T2: Reprogramming The Terminator, James Cameron talked about witnessing Hamilton fire eight rounds in the center of a target on her first day, ensuring her transformation into the Mother of the Future as complete.
Live Models Were Used In The Future War And Other Action Sequences In Terminator 2
Speaking of the future, the reason the robots in the post-apocalyptic flash forward at the beginning of Terminator 2: Judgment Day look real is because they are. The special effects team spliced practical footage of large scale, automated models with that of actors in military garb to create a near seamless depiction of futuristic warfare. Shots of the famous Terminator endoskeletons in battle were also achieved with a combination of stop motion animation by Peter Kleinow and animatronics courtesy of the legendary, late Stan Winston, who also created a life-size, robotic recreation of Arnold Schwarzenegger for a scene involving the T-800.
Stan Winston Directed A Terminator 2 Teaser Trailer With All Original Footage
The Academy Award-winning visual effects in Terminator 2: Judgment Day were not all Stan Winston was put in charge for. To hype up audiences for the follow-up while it was still in production, James Cameron worked with Winston to create a teaser, directed by the special effects wizard himself, that would show no footage of the film, settling on a depiction of the T-800 being assembled and concluding with audio of Arnold Schwarzenegger promising he would be back. While it is a rarity these days, the spoiler-free, 73-second promo, which cost $150,000, was a groundbreaking achievement that many studios took note of after its 1990 release.
The Sound Of T-1000 Walking Through A Barred Door In Terminator 2 Cost 75 Cents To Create
In 1991, Terminator 2: Judgment Day became the most expensive film ever with a budget exceeding $100 million, but that does not mean they were breaking the bank with every detail. A 2015 Wired article profiling famous special effects company Industrial Light and Magic reveals the sound of the T-1000 walking through a locked mental hospital gate was created by holding a can of dog food upside down and letting the contents slowly ooze out from the metal cylinder. According to sound designer, Gary Rydstrom, the cost of that effect was 75 cents.
T-800's Motorcycle Stunts Were Done By A Stuntman In Facial Prosthetics Resembling Arnold Schwarzenegger
One of the most talked about sequences from Terminator 2: Judgment Day has the T-800 chasing after John Connor, tailed by the T-1000, after riding his Harley into a canal. Well, not only was that beautiful jump achieved with wires and digital effects, but all of Arnold Schwarzenegger's most death-defying motorcycle stunts in that breathtaking sequence were achieved by stuntman Peter Kent, who was wearing prosthetics to help him better resemble the former bodybuilder. For the film's 2017 3D re-release, the actor's face was digital imposed onto Kent's body.
An Abandoned Steel Mill Was Resurrected For Terminator 2's Final Scene
In another one of the film's more committed efforts for authenticity, the final battle between T-800, Sarah, and John Connor against the T-1000 in Terminator 2: Judgment Day was filmed at an actual out-of-commission steel mill. However, despite how warm the location may seem in the movie, the temperature averaged at about 42 degrees, requiring Edward Furlong and Sarah Hamilton to be doused with fake sweat in-between takes.
Linda Hamilton's Twin Sister Plays The T-1000 Posing As Sarah Connor
One moment from the steel mill sequence that one might have expected to be another cutting CGI effect was when the T-1000 tricks John Connor into thinking it is his mother. Excluding when the real Sarah Connor's gunshot splits the cyborg in two, that scene is all practical. Playing the T-1000 for that moment is Linda Hamilton's twin, Leslie, in one of three scenes in which she fills in for her sister in the Terminator 2: Judgment Day, also including when Sarah and John remove the T-800's chip from his skull and in Sarah's Judgment Day dream sequence.
Twins Also Played The Hospital Security Guard And T-1000 Posing As Him
Linda and Leslie Hamilton were not the only siblings creating movie magic in Terminator 2: Judgment Day. Portraying the mental institution security guard and the T-1000 impersonating him were identical twins Don and Dan Stanton, who you might also recognize as a pair of scientists from Gremlins 2: The New Batch and military officers in Good Morning Vietnam.
A Terminator 2 Alternate Ending Was Shot Depicting A More Hopeful Future
While the ending of Terminator 2: Judgment Day is meant to imply that the titular apocalyptic event has been ultimately prevented, the subsequent follow-ups have all made attempts to retcon that. The second installment could have possibly solidified itself as the officially resolution to the story had the filmmakers opted to use the alternate ending, which sees Sarah Connor, 30 years older, reflecting on the cyborg-free world while visiting the park with her adult son, who's now a senator, and her granddaughter. Depending on who you ask, this might have meant for a better outcome to the franchise.
Be sure to check back for additional information and updates on this action-packed sci-fi franchise, as well as even more in-depth looks at what goes on behind the scenes of your favorite movies and TV shows, here on CinemaBlend. Hasta la vista, baby.
Jason has been writing since he was able to pick up a washable marker, with which he wrote his debut illustrated children's story, later transitioning to a short-lived comic book series and (very) amateur filmmaking before finally settling on pursuing a career in writing about movies in lieu of making them. Look for his name in just about any article related to Batman.
Your Daily Blend of Entertainment News
Thank you for signing up to CinemaBlend. You will receive a verification email shortly.
There was a problem. Please refresh the page and try again.